Kauai Polynesian Festival spotlights Tahitian, Maori, Samoan and Hawaiian dancing, culture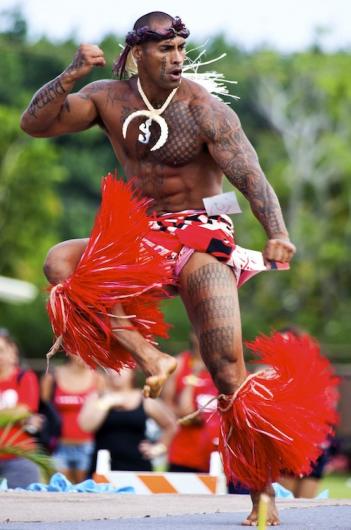 The 12th annual Kauai Polynesian Festival, which features Tahitian, Maori, Samoan and Hawaiian entertainment as well as group and solo dancing competitions, will be held this weekend at Vidinha Stadium in Lihue. The competitions will spotlight hula — ancient (kahiko) and modern (auana) — hula as well as fireknife dancing.
The fireknife dance's origins are tied to the Samoan ailao (warrior's knife dance) performed with the flaming nifo oti (tooth of death). The dance was displayed before battle to frighten the enemy and afterwards to celebrate victory. The modern fireknife performance involves high-speed spinning of a sharp knife, with both ends set ablaze. The fire is real-deal, and dancers — precise and agile in their rapid movements — sometimes intentionally make contact with the flames. Yikes!
In addition to various performances, the event includes the "Polynesian Experience," hands-on arts-and-crafts activities; a Polynesian Farmers Market; Hawaiian games, food booths, workshops, and more. The three-day event will get under way on Friday and wrap up on Sunday, with festivities in the works from noon through 10 p.m.
The annual fest is presented by the Kamanawa Foundation, a Kauai-based nonprofit. The foundation's mission is to preserve, promote and perpetuate the Native Hawaiian culture, including the language, social values, arts, crafts and music, primarily through the study of hula. The foundation hosts three annual events that highlight hula and Polynesian performing arts. In addition to this weekend's fest, the group organizes Holiday Hula Celebration and Kauai Hula Exhibition.
The fest's entrance fee is $10 per day or $25 for all three days. Children younger than age of 5 are free.

 For more information, click here or call (808) 335-6466. Click here to check out the fest's schedule of events.