Kauai's Coconut Festival set for this weekend along island's "Royal Coconut Coast"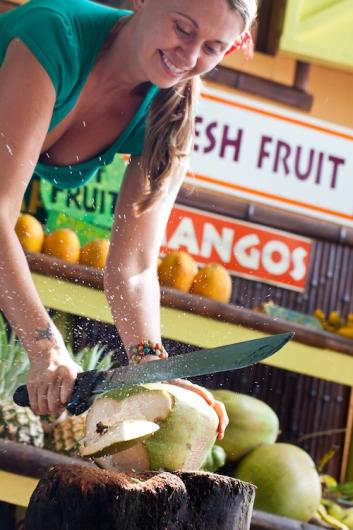 Kauai's 16th annual Coconut Festival will be held this weekend in Kapaa town, north of Wailua on the island's east side. The two-day event, set for 9 a.m. to 5 p.m. on Sat., Oct. 6 and 10 a.m. to 4 p.m. on Sun. Oct. 7 in Kapaa Beach Park, salutes the area dubbed "Royal Coconut Coast" for its historic ties to both Hawaiian royalty and the iconic tropical plant.
Based on the archeological features found along Wailua River — the only river in the Islands that can be navigated with a boat larger than kayak — the 20-mile stretch was once thought to be a sacred area to Hawaiian royalty.
According to the Coconut Festival's organizer, the Kapaa Business Association, with the arrival of westerners, the Coconut Coast region developed into sugar cane, rice and pineapple growing areas. Plantations cultivated groves of coconut trees along the coast in hopes that copra, the dried meat that produces oil, would be a viable crop. The many coconut trees along Kuhio Highway, from Wailua to Kapaa, are left over from the old plantations.
Among the festival's musical headliners: Na Hoku Hanohano winner Anuhea Jenkins. (Na Hoku recognition is Hawaii's equivalent of a Grammy award.) The fest's main stage will feature non-stop activity, ranging from live music to a coconut-pie-eating contest.
Other fest highlights include cooking demonstrations by top Kauai chefs; vendors selling "Kauai Made" kooky coconut games; local folks competing to win a coconut cook-off contest, and talks about all things coconut — from plant science to cultural significance. For more information about the Coconut Festival, click here.