Kauai's Festival of Lights Transforms Ordinary Objects into a Holiday Spectacle
The community tradition started with one woman's eco-creativity in the 1950s.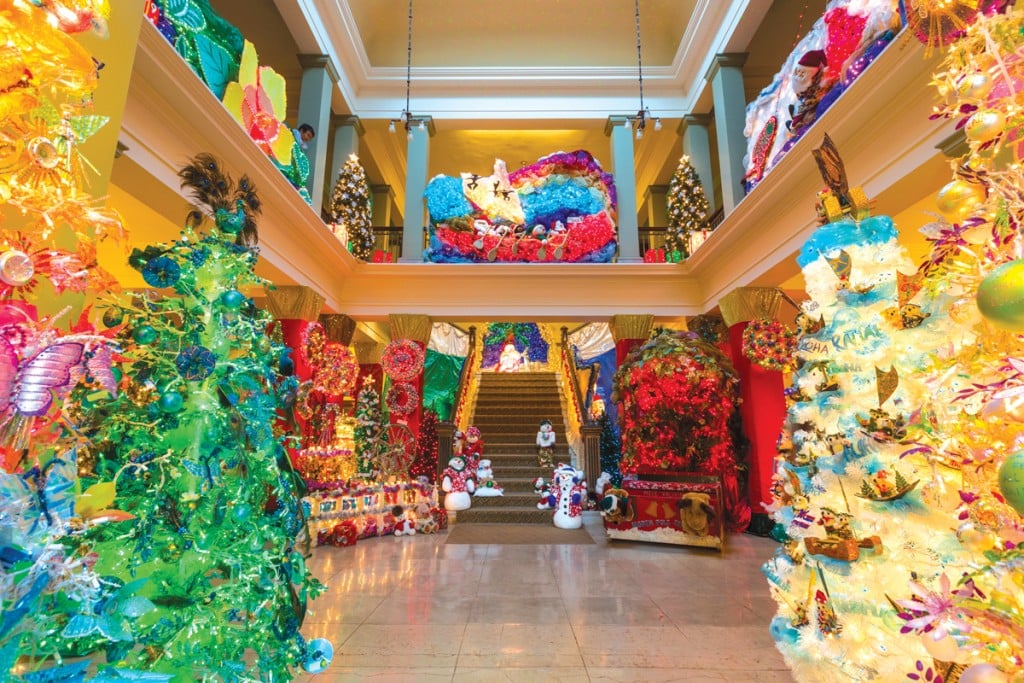 Elizabeth Freeman had just finished eating soup from the Healthy Hut Market & Café in the small town of Kilauea, Kauai, when an idea came to her.
She set down her spoon, looking at it with newfound appreciation. "I was looking at the spoon convex side up, and I wondered if I could make the end look like a water drop," she says. The utensil would work great for her next art project.
Freeman is an artist who grew up in Southern California before moving to Kauai in 1986. In 1997, she founded the Kauai Festival of Lights. It's a beloved Garden Island tradition at the Kauai Historic County Building, featuring Christmas trees, Hawaii-themed holiday displays—think Santa on an outrigger canoe—and thousands of twinkling lights. These are no ordinary holiday displays, though. Perfectly ordinary objects, such as water bottles, Spam cans and CDs are transformed, sometimes beyond recognition, into ornaments and decorations decking the halls.
As for the spoons? They're for Freeman's latest tree creation, "Fire and Rain," an homage to the historic Kilauea lava flow on Hawaii Island this year, and the roughly 28 inches of rain that fell on Hanalei, Kauai, in 24 hours this April. She collected hundreds of plastic spoons and forks, which resemble raindrops and a lava flow. "You can't get through this year without thinking about these two elements."
Now in its 22nd year, the Kauai Festival of Lights is a community tradition that spotlights sustainability and folk art.
Humble Beginnings
When people think of the festival, two women come to mind: Elizabeth Freeman and Auntie Josie. While Freeman has shaped the festival into the annual Kauai tradition it is today, Auntie Josie's eco-creativity laid the foundation.
For years, beginning in 1954, Auntie Josie and her husband, Joe Chansky, would decorate the outside of their east Kauai home with strands of lights. They loved the effect, prompting Auntie Josie to festoon the inside of their home with her own handmade decorations crafted from saved materials including egg cartons, clothes pins and aluminum cans. Her masterpiece: a Christmas tree comprising 7,000 green toothpicks.
Word spread of Auntie Josie's craftiness and visiting the Chansky's home in Kapaa became a December tradition as she created more baubles each season. In fact, their home was nicknamed the Kapaa Christmas House. Thousands of kamaaina (longtime residents) and visitors would make the trip to see Auntie Josie's unique creations.
"Everyone knew her home, everyone went to visit," says Bernard Carvalho, Kauai mayor and great-nephew of Auntie Josie. "All of us would go see the lights. Her legacy and her love for sharing … not only touched people from Kauai, but people from around the world. She would sit out front (of the house) and answer questions. Cars would be packed outside. I always remember sitting in her living room, she would bring out snacks."
The festivities halted in 1996, the year Joe passed away. Auntie Josie didn't want to decorate their house without him, so she put the decorations up for sale. Freeman, who had visited the Chanskys each December, already knew the value of Auntie Josie's work and didn't want to see the tradition she cultivated fade away. "She loved light, she loved people," says Freeman. "When I walked into her three-car garage with my son, I looked at her work and went, 'Wow, what an amazing folk artist.'"
Freeman paid $3,000 for more than 20 pieces of Auntie Josie's handmade holiday ornaments, wreaths and decorations in 1996. Her intention was to donate them so the works could live on. She says she called the Kauai Museum and Toys for Tots, but no local organization was able to take the pieces. Freeman then reached out to then-Mayor Maryanne Kusaka, who accepted them. In addition to finding a permanent home for Auntie Josie's collection, Kusaka also helped Freeman launch the Kauai Festival of Lights at the Kauai Historic County Building. (Auntie Josie passed away in 2009; she was a festival fixture until then and had been recognized by the state Legislature and Kauai mayor for her holiday displays.) Now, each year, Auntie Josie's pieces re-emerge alongside Freeman's new creations in a delightful spectacle of creativity.
"I look forward to seeing (the festival), particularly Auntie Josie's work," says Carvalho. "Elizabeth carries on the lights—not just the Christmas lights, but the spiritual lights that Auntie Josie knew. It's not just the trees and wreaths. It's so imaginative what she's done."
From Trash to Treasure
As Elizabeth Freeman transforms the county building, she honors the history of the Kapaa Christmas House while also putting her own creative mark on the festival she worked to curate for the past 22 years. She spends virtually all year preparing for the Festival of Lights and many people in Lihue know her as the woman behind the gleaming displays and technicolor trees. Once the festival ends in December, Freeman and a small crew meticulously cover the trees and pack up the thousands of lights and decorations in labeled boxes and store them in a city government building in Lihue. She then begins thinking about next year's festival.
"Each year, I look at the space and imagine what I want to do, how to change it and make it new and exciting for everyone who walks in," says Freeman, who's known for her trademark Panama hat, large colorful jewelry, long strawberry blond hair and big smile. "I want it to be a different experience so people can't say, 'Oh well, I saw it last year.'"
Freeman studied art and architecture at the University of California, Los Angeles. "My canvas is the interior of the county building," she says, "and nature is my inspiration." She grew up camping in California and still enjoys the outdoors and hiking on Kauai. She also spends time in New Mexico and in Southern California, where her son, Wyatt, lives. Once she has an idea, she draws sketches of the tree ornament or decoration and then begins sourcing materials. She gets so busy with the festival that she doesn't bother decorating her own home for the holidays.
The Kauai Festival of Lights has 30 trees total, 15 to 20 of which Freeman says are feature trees. Each tree has a color, light and material theme. There's "Lure of the Sea," "Kauai Over the Rainbow," "If Can, Can" and "Kauai Sand People," to name a few. The others are part of scenes, such as surfing Santa being pulled by surfing chickens and Rudolph the Red-Nosed Rooster, and the "Kauai Mermaid Kingdom," featuring a cardboard castle covered in shells and sand from Haena Beach on the north shore.
These unique decorations are what set the festival apart. The nondescript county building—home to the Kauai County Council—is transformed floor to ceiling in cheery holiday trimmings. But look closely and you just might be able to identify the materials used to craft these trinkets. "I'm using plastics and other things as raw materials," she says. "But I don't think of them as recycled materials. As an artist, I just think of them as raw materials. People coming to see the display might not know what (the decorations) are made out of."
The "Lure of the Sea" tree, for example, features sea urchins from Slurpee lids, jellyfish and crabs from plastic water bottles and turtles and fish from cut and embossed aluminum cans. Freeman also uses bento clamshell containers, CDs, bubble wrap, Spam cans and plastic Easter eggs to create such things as flowers, angels, canoes, pineapples, seashells, starfish and butterflies. She collects the items herself and, over the years, local businesses have saved items for her to use in the festival. Each year, Freeman also visits SCRAP, the Scroungers Center for Recycled Art Parts in San Francisco for supplies.
While Freeman is the visionary behind the festival, she relies on volunteers to craft the creations. For two weekends every November, Freeman leads what she calls Santa's Workshop at the storage building and works with student volunteers from Kauai High School and Kapaa High School, as well as men from the Kauai Community Correctional Center, to create ornaments. Her annual workshop brings in about 70 to 80 students and roughly seven inmates over four days. Some of the teen volunteers even participate as docents during the festival.
Tables for the volunteers are laid out with Freeman's sample ornaments, instructions, materials and supplies. Even though Freeman designs the ornament concepts, she says there's room for individuality. For example, how they paint the butterfly's wings or design the sand people's clothes is left to their imagination.
"I believe in everyone's innate creativity and talent," says Freeman. "I love it when people tell me, 'I'm not good at art,' because they always do something fabulous. I'm never disappointed."
"I was pretty surprised that she comes up with all these ideas from recycled materials," says Kauai High School junior Madison Johnson, who volunteered for the first time in 2017. "My favorite part was getting to talk to her. She was supportive with ideas and letting us be creative in making our ornaments." Johnson says she made two ornaments resembling the Polynesian voyaging canoe, Hokulea.
Freeman adds that working with volunteers is her favorite part about the festival. "I love enabling their creativity and how proud they are (of what they've made). It's a big high for me."
She attends each night of the festival and welcomes visitors as they walk up the steps of the county building, watching their faces light up under the glow of the trees. "I've done the festival for 22 years," she says. "People ask if I'm going to retire, but it's not a burden. It's a great joy to see their faces when they arrive."
Kauai Festival of Lights
Open 6 to 8 p.m. on Fridays, Saturdays and Sundays and Christmas Eve in December. The Kauai Historic County Building, 4396 Rice St., Lihue, Kauai, (808) 639-8564, kauaifestivaloflights.com.