Kauai's Kalalea Juice Hale answers all your acai and smoothie prayers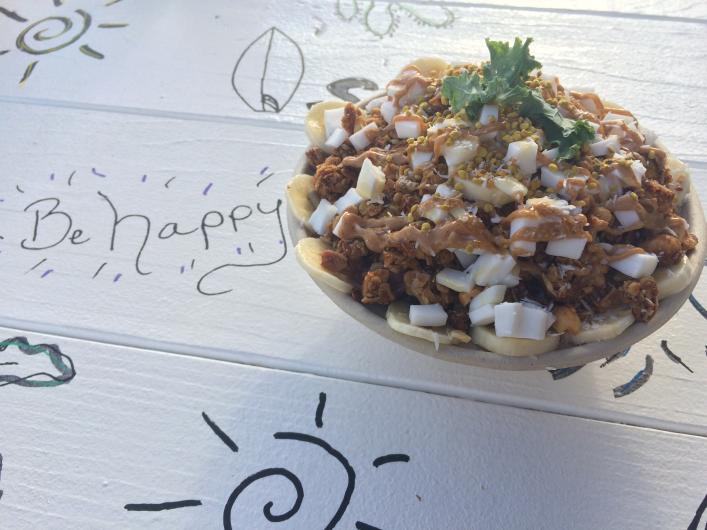 The tangerine bungalow off the side of Kuhio Highway in Anahola sits in the shadow of Kalalea mountain, a stunning, green peak shaped like King Kong's head. On most days the artfully painted picnic tables scattered about the bright shack's orbit are filled with happy customers taking in the majestic views of the mountain with purple-stained lips. This is Kalalea Juice Hale, a small, family-owned acai bowl and smoothie shop that serves up fruity, delicious grinds.
Open Tuesday through Sunday from 8 a.m. to 5 p.m., the Hale (Hawaiian word for "house") is a must-visit for healthy, tropical snacks and sweets. The offerings are expansive: Cold-pressed juice, acai bowls, smoothies, superfood shots, popsicles, shave ice, coffee and fresh, cold coconuts. Nearly everything on the menu is local and organic. It's the perfect pit stop on your drive to the island's verdant north shore or a midday break from the beach.
The Next Level acai bowl ($11) is a fan favorite. This creamy blend of Tambor acai (a Hanalei-based acai producer), banana, kale, protein powder and fresh coconut milk comes topped with banana slices, homemade granola, fresh coconut meat, honey, bee pollen, swirls of peanut butter and a kale leaf.
The menu also has two more acai bowl options: The O.G. ($9) uses fewer ingredients and is a bit more simplistic, while The King Kong ($12.50) adds on even more goodies, such as goji berries, cacao and cinnamon.
Popular smoothie offerings include Kalalea Love ($8.50), a blend of strawberry, banana, peanut butter, cacao nibs, date, coconut meat and a dash of cinnamon, and the Zen Masta ($8.50), which is a matcha green tea combined with banana, berries, ginger, lemon, coconut water and local raw honey. The short menu of cold-pressed juices includes the Olena: a mostly sweet drink made of carrot, orange and mint, plus a peppery hint of turmeric.
Now don't forget the shave ice! The Hale's take on the quintessential Hawaii dessert are flavored with delicious, all-natural, organic syrups derived from organic cane sugar and fresh, local fruit, such as lilikoi (passionfruit), lychee and dragonfruit ($6.50 for a large). On your trip to Hawaii, shave ice is a must-try.