Kauai's Kilauea Point Lighthouse marking centennial with five-day celebration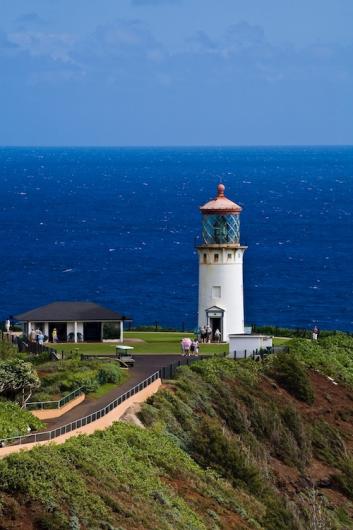 Kauai's Kilauea Point Lighthouse's five-day centennial celebration will get under way on Wednesday (May 1) with a lighthouse re-opening ceremony and tours. Festivities will continue through the weekend with events ranging from an art show to an official renaming of the site as the Daniel K. Inouye Kilauea Point Lighthouse in honor of the late senator.
Built in 1913 as a navigational guide for commercial shipping between Hawaii and the Orient, Kilauea Point Lighthouse (pictured, right) functioned for 62 years as an aid to ships and boats traveling along Kauai's rugged north shore. In 1976, the Coast Guard deactivated the lighthouse and replaced it with an automatic beacon. Three years later, the lighthouse was placed on the National Register of Historic Places. These days, volunteers keep the lighthouse functional and on rare and special occasions, the Kilauea Point Lighthouse lights the sky above Kauai's north shore.
The picturesque lighthouse (famous for its signature "double-flash") is now part of Kilauea Point National Wildlife Refuge, which consists of 203 acres of protected land. Located two miles north of Kilauea Town, Kilauea Point is on the northernmost tip of the main Hawaiian Islands.
Here are a few of the centennial celebration's highlights.
• Lighthouse re-opening ceremony — 10:30 a.m. Wednesday. Restoration work, which got under way in 2008, is now completed. (A few aspects of the restoration effort are still in the works, but large-scale improvement phases are completed.) Tours are slated to start every 30 minutes, beginning at 12:30 p.m. and wrapping up at 3:30 p.m. Tours will continue through the weekend.
• Recognition and Renaming Ceremony — 5 p.m. Saturday. The lighthouse will be renamed in honor of the late Sen. Inouye (D-Hawaii), who was a key supporter of the establishment of Kilauea Point National Wildlife Refuge in 1985, as well as backer of the ongoing lighthouse restoration. In a recent news story, U.S. Fish and Wildlife Service Director Dan Ashe said Inouye served as "a beacon of hope for conservation issues" and that renaming the lighthouse in his name is "befitting of his lifelong work and contribution to the people of Hawaii and the conservation community." Inouye represented the Islands in Congress for 50 years. He died in mid-December.
For a complete schedule of centennial events, click here. For additional information about Kilauea Point National Wildlife Refuge, click here.