Kauai's Master Surfboard Shapers are Some of Hawaii's Best
Some of surfing's most revolutionary board makers can be found on the Garden Isle, with its reefs and point breaks.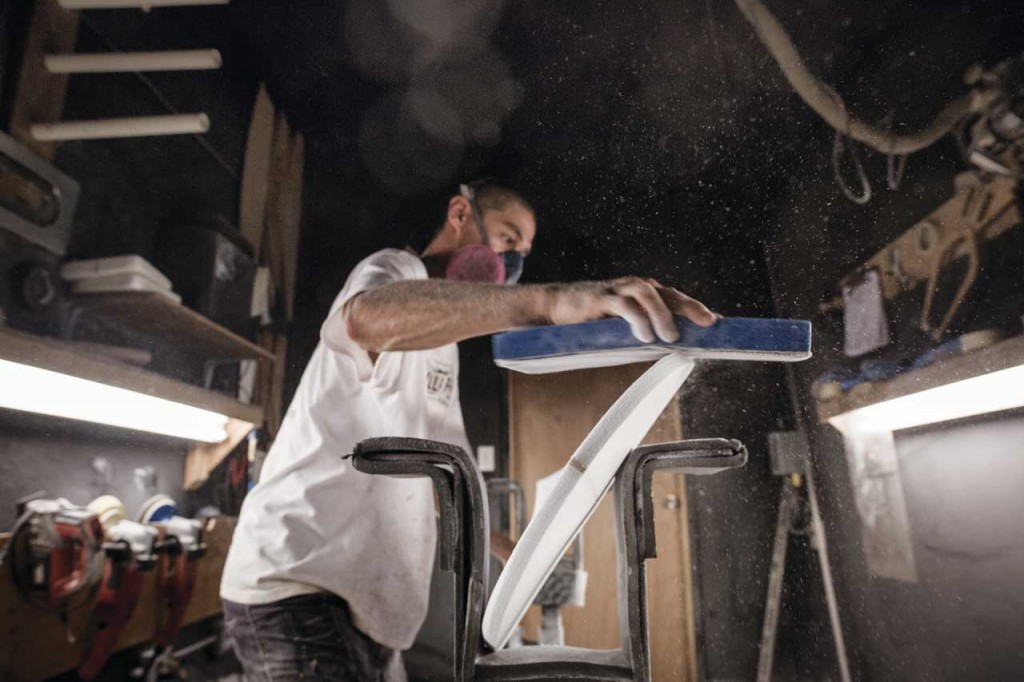 In winter, when Kauai's shores morph into a magnet for monster swells, a cluster of sleepy, jungle-encroached surf towns transforms into a world-class destination for seasoned wave riders.
In this wonderland of reef and point breaks reside some of surfing's most revolutionary board makers.
The Guru: Dick Brewer
In the elite group of shapers who call the Garden Isle home, Dick Brewer presides as the undisputed grandmaster. His hands have designed more boards for more world champions than those of anyone else alive, inspiring surfers to charge the biggest, heaviest rideable waves around. All told, 50,000 surfboards have been designed by the self-declared shaping guru, earning him and his eponymous brand of surfboards worldwide recognition.
At 81, Brewer still spends the first few hours of his mornings in the shaping room, where he crafts custom boards that feature a logo of his name encircled by a lei. With 60 years of shaping experience and a quenchless thirst for experimentation, Brewer says he feels like his career is just getting started.
"You can expect 20 more years of surfboards from me," says Brewer, who is widely recognized as one of the sport's most celebrated innovators of all time.
A man at the top of his craft, Brewer continues to evolve the art of shaping while expanding the limits of surfing, one bespoke board at a time.
Custom Dick Brewer Surfboards begin at about $1,200. For inquiries, contact Brewer at dickbrewer@hawaiiantel.net.
The Young Gun: Will Scovel
The making of a custom surfboard begins with a probe: What is your weight? What is your level of experience? Do you want to hang ten or do you want to charge two-story waves? It's the job of the shaper to actualize all of this data into the perfect conduit, and that conduit is different for every rider.
On Kauai's west side, Will Scovel has made a name for himself as a master shaper of high-performance shortboards. Ultrasensitive under the feet, these boards allow for sharp movements, allowing riders to push the limits on hollow waves.
What began as a hobby born of a teenage desire to own more surfboards than he could afford, Scovel's early dabbling in surfboard shaping developed into a career that allows him to travel the world, testing his equipment on foreign waves while researching new designs.
Scovel, who was born in Japan but has lived on Kauai since he was a toddler, says much of his business comes from visiting surfers who want custom boards crafted by a shaper who knows the unique demands of Kauai's surf.
"People will come to Kauai to surf for the first time and I'll say, 'Where do you want to surf when you get here and what's your experience level?' and I'll know exactly what kind of board to shape for them because I've been surfing these waves all my life," says Scovel, who wears a T-shirt that features a cartoon image of King Kong surfing while holding a milkshake. "In shaping, you have to be really calculated, but you also have to have artistic flair."
A leader among Kauai's next-generation board makers, Scovel describes himself as a surfer more than a shaper.
His motto? Shape less, surf more.
Custom Scovel Surfboards start at $500 for a shortboard and $900 for a longboard. Scovel Surfboards are also sold at Kauai surf shops, including Poipu Surf and Aloha Exchange. For inquiries, contact Scovel at willscovel@yahoo.com.
The Innovator: Bill Hamilton
In 1998, Bill Hamilton won a utility patent that would renegotiate the limits of what an extreme, big-wave surfer can accomplish on a surfboard. A board-making process in which the rails are built with a tightly woven band of fabric results in a structural improvement that can boost the strength of a surfboard by about 28 percent, he says.
"In the '90s, we were trying to make our boards really light, but the double-edged sword of that is that a light board tends to be weaker," Hamilton says. "So I was thinking that in World War II the airplane wings were made out of fabric, and that must do something structurally that might also serve as a benefit in the design of a surfboard."
To test his theory, Hamilton built a board with fabric rails and then loaded it with concrete bricks. When the board balanced about 80 bricks before it broke in two, Hamilton instantly knew he had created something capable of revolutionizing modern surfing.
"I've basically devoted my life to surfing, and I'm proud of the fact that I've been able to contribute something to this industry," says Hamilton, who is 69.
Today you can easily spot a Hamilton board by the strip of aloha-print fabric around the rails.
A denizen of Kauai's north shore, Hamilton has been shaping surfboards for a half-century. He estimates shaping 25,000 to 30,000 boards, and the surfer-turned-shaper says he still assembles about 150 custom boards a year. Hamilton, who has shaped boards for surfing legends Andy Irons and Laird Hamilton, is famed for his longboards and big wave-riding guns.
"When you shape a board by hand you're basically creating a sculpture," Hamilton says. "What makes my boards different is that I have kind of married the shortboard into the longboard so it's more of a high-performance riding board, but it has a lot of the characteristics of the old longboards we used to ride in the '60s."
In recent years, Hamilton has taken up a new genre of surfboard making: turn-of-the-century classics. Captivated by the wooden boards the Native Hawaiians rode before the advent of modern surfing, Hamilton crafts raw slabs of monkeypod, wiliwili, koa and balsa wood into museum-quality wall hangers that wear glistening coats of kukui oil.
"Hawaiians were riding waves with a great deal of authority, and when the missionaries came and put the kibosh on surfing, it became a forgotten art," Hamilton says. "It's a part of history that I'm trying to bring back again."
Custom Hamilton Surfboards begin at about $100 a foot. For inquiries, contact Hamilton at hamiltonsurfboards@hotmail.com.