Kauai's Napali Coast trail and Kalalau Valley closing for two months, Sept. 7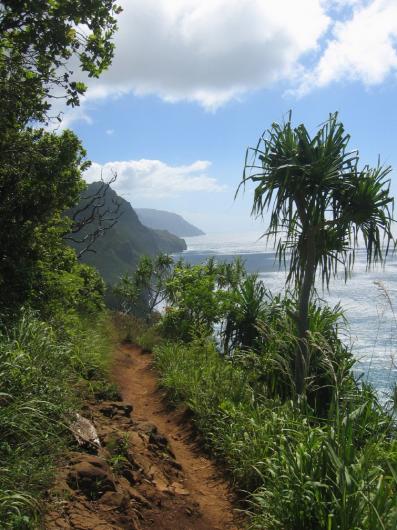 Nine miles of trail at Napali Coast State Wilderness Park on Kauai will close to the public on Sept. 7, for improvements and clean-up. The trail will open again on Oct. 31, 2010.
If you're planning a hike on the scenic Kalalau Valley coastal trail between both dates, here's what you need to know:
• The closure affects the nine miles of Napali coastal trail from Hanakapiai Valley to Honopu Valley, which includes access to popular beach and camping spots at Kalalau Valley. The first two miles of the trail from Kee Beach to Hanakapiai Valley (including the valley trail to Hanakapiai Falls) will remain open for hiking.
• Ocean access to Kalalau Valley and Honopu Valley will also be closed. The area of the coastal trail slated for repair will also be closed to all ocean-based access, including ocean tours. But the closure is business as usual for both Kalalau and Honopu Valleys, which is annually closed to ocean access from Sept. 7 through May 15.
• Ocean access at Nualolo Kai and Milolii State Parks, west of Honopu Valley, will be allowed, including access for ocean tours.
The closure of the Napali coastal trail, its first in decades, will allow the Hawaii State Department of Land and Natural Resources (DLNR) to complete necessary clean-up, trail repair and rockfall mitigation at the remote, but much-used wildnerness area.
The work will also include reducing the number of feral animals in the area and clearing and cleaning up illegal campsites at Kalalau Valley. A campsite near Hoolea waterfall will be closed permanently, as will other sites in the area subject to frequent rockfall caused by erosion.
The state will also install new directional, interpretive and warning signage on the trail, and survey the condition of the area's Hawaiian archaeological and cultural sites.
Inaccessible to all but the hardiest of adventurers, the 16-mile Napali Coast on Kauai's northwest side is a garden of unblemished natural treasures, recently voted by HawaiiMagazine.com readers as their No. 2 Favorite Natural Wonder of Hawaii. The area's secluded white sand beaches, isolated waterfalls and lush valleys were a primary Hawaii shooting location for the crew of Disney's Pirates of the Caribbean: On Stranger Tides this summer.