Kayak and Hike to One of Kaua'i's 'Secret' Falls
Navigate the Wailua River on kayaks, then hike to Uluwehi Falls, on a guided tour with Rainbow Kayak Tours.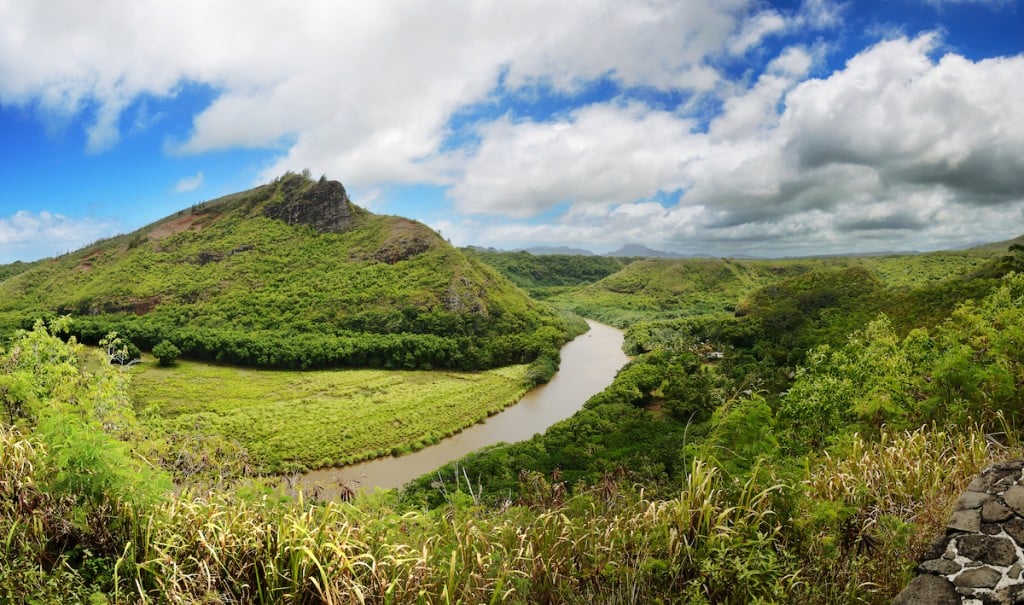 It was my first trip to Kauaʻi—to anywhere—since the start of the COVID-19 pandemic in March 2020, and I wanted to do everything.
Lounge on Hanalei Beach.
Drink mai tais at Tahiti Nui.
See the Nāpali Coast by boat.
Eat kūlolo.
And trek to a secret waterfall somewhere on this ridiculously lush and gorgeous island.
So that's what I did.
Hidden in the back of the Wailua River on Kauaʻi, Uluwehi Falls is hardly a secret anymore. But it is only accessibly by boat, then on foot, making it a difficult waterfall to get to. And I was going to get there.
Since I didn't pack a kayak in my carry-on, I needed to book a guided tour to the falls. Rainbow Kayak Tours offers a 4 1/2-hour kayaking and hiking adventure that would get me to the 120-foot waterfall—and with lunch.
I met our guide, Thomas, at the shop in Kapaʻa, near Aston Islander on the Beach, at around 7 a.m., the first tour of the morning. And you want to be in the first tour. Better kayaking conditions, fewer people at the waterfall. It's so worth it.
The longtime Kauaʻi resident noticed an uptick in visitors to the Garden Isle since the island rejoined the state's Safe Travels testing program on April 5. (Right now, there are no restrictions on interisland travel, though trans-Pacific travelers still need to show proof of a negative COVID-19 test before arrival.) "We hadn't seen the outbreak of sunburn in a year," he joked.
Our tour was full—12 is the capacity—and we jumped in the van for a quick ride to the boat ramp where we launched our two-person kayaks. It was a calm morning, nice conditions for paddling up the Wailua River, the state's only navigable inland waterway for boats larger than kayaks. The plan: Kayak two miles along the tranquil river, take in the views—which includes the Nounou Mountain (aka Sleeping Giant)—and get to the trail before the hoards of visitors who now have this not-so-secret waterfall on their bucket lists.
The 20-mile long Wailua River boasts scenic views and cultural sites, including the Wailua Complex of Heiau—remains of heiau (religious sites), birthstones and puʻuhonua (places of refuge)—and waterfalls. The most popular ones are 'Ōpaeka'a Falls and Wailua Falls, both of which I've been to before. Uluwehi (which means lush and verdant in Hawaiian) was my goal.
My partner and I—thankfully she was young and experienced—made it to the trailhead in what felt like record time. We docked our kayaks on the rocky banks, grabbed walking sticks that other hikers politely left, and hiked to the falls. We trekked through elephant grass taller than us and past ginger and groves of mango trees. The county recently upgraded the trail with a boardwalk, which minimizes impact on the environment and creates a safer path for hikers. It was a pleasant improvement.
It's only a mile hike to the falls, and it felt good to stretch my legs after kayaking for an hour. I was glad I brought dry socks and shoes in my dry pack—I wore slippers (flip-flops) on the kayak—because trekking here, especially when you get to the rocky section near the waterfall, was easier done in shoes.
The waterfall plummeted into a good-size swimming hole. People stripped down to swimsuits and waded into the chilly water. I chose to sit on the rocks and enjoy the lunch Rainbow Kayak Tours provided—a turkey sandwich, chips and fresh pineapple.
The outfitter takes only 24 people here—12 in the morning, 12 in the afternoon—six days a week. (Guided tours along the Wailua River aren't allowed on Sundays.) When we left, more tour groups were arriving, and there were already about 50 people in the pool and sitting on the rocks surrounding it. I was glad we got there early.
The hike and kayak back was much more leisurely. We weren't in a rush to get to the waterfall anymore—and we were all content. We had done what we came here to do—and we had lunch, too.
TIPS:
Wear something you don't mind getting wet—a rashguard is a good option—and if you don't like walking in wet shoes, consider bringing a dry pair or using water shoes or Tevas.
If you want to swim under the falls, wear a swimsuit under your clothing. There's no place to change.
Find out if the outfitter provides a dry bag, which keeps your belongings dry. If so, bring a towel, sunscreen and whatever other sun protection you need. It's not a bad idea to bring rain gear, too.
Don't forget your camera. We recommend a waterproof case or bag for your smartphone.
Before you book a tour, be sure you're physically capable of doing it. You should be comfortable in the water, enjoy hiking and be in decent physical condition. You will be paddling for four miles and walking for two.
Wailua River Kayak & Waterfall Hike, Rainbow Kayak Tours, $85 for adults, $65 for children age 5 to 12, includes lunch, (808) 826-2505, rainbowkayak.com.