Kayaking and hiking Kauai's Wailua River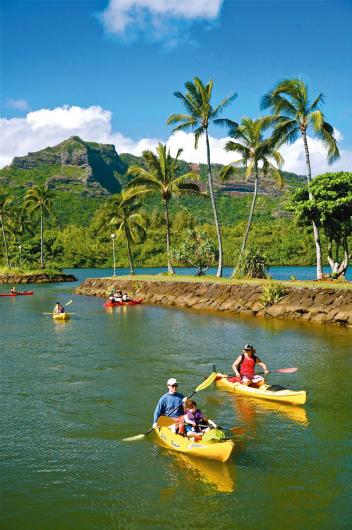 It's morning on Kauai. The water fronting the Wailua Marina is as smooth as glass. Suddenly, a fleet of kayaks drops in, breaking the water's surface in a series of splashes and ripples. The neon yellow and orange boats bob and bounce off one another, a colorful logjam.
One of these kayaks will be my ride for the day. I'm headed two-and-a-half miles up the Wailua River, before hiking another mile into the heart of the Wailua Valley. My destination: Uluwehi Falls, also known as Secret Falls, a spectacular 112-foot-tall cascade fed by Mount Waialeale, the wettest spot on Earth.
I'm with an outfit called Kayak Wailua, which offers the expedition to Uluwehi Falls several times a day. Owner Pete Fisher keeps his company a family business, sharing tour duties with his wife and three children. Leading my tour was Fisher's youngest son, Nate, who—with his lean, tanned frame and mop of shaggy hair—is Kaua'i personified.
Before we depart, Nate gives my tour group a crash course on equipment and safety procedures. It's standard protocol as guests' kayaking experiences vary.
We're ready to go. A few paddle strokes send my boat careening into the Wailua River's main channel. Nate corrals the group onto the river's right side, avoiding the motorboats, tour boats, jet skis and other kayak tours that frequent Wailua's waters. Strict regulations have helped prevent overcrowding, but the river remains a busy place.
Signs of other watercraft soon disappear as we continue upstream, replaced by pristine vistas of Kauai's dense forests, grass thickets and green-topped hills. The river branches in two directions. Nate motions the group to go right, along the river's northern fork. The once-expansive river quickly tapers, with some sections no more than a couple of kayak lengths across. Negotiating my boat through, I'm careful not to scrape against branches that jut out into the narrow lane.
This course takes us to a shallow embankment—an ideal spot to dock our kayaks and proceed with the next stage of the journey, the hike. We eagerly hit the trails, Uluwehi Falls in sight.
Weaving through a shaded forest of albesia trees, Nate points out to the group that our trail was formed less than a month ago. How is this possible? Just weeks earlier, roughly 18 inches of rain had deluged Kauai. Wailua Valley's normally gentle streams had turned into rivers, carving a number of pathways through the area.
Today's weather is more cooperative. The stream we follow gurgles softly, and golden bars of sunlight crack through the forest canopy. We amble along wood-planked boardwalks and climb over rocks and logs, slick with mossy growth. Beautiful, yet surprisingly exhausting work.
We arrive at a small waterfall lined with shelves of smooth, river-bore boulders. "Is this it?" asks a young girl in our group, who appears visibly tired. Not quite. But it's a good sign, says Nate. The stream feeding this waterfall will take us straight to Uluwehi Falls, another five minutes by foot.
Our resolve is soon rewarded. Uluwehi Falls is a wall of water both imposing and awe-inspiring. The water barreling down the falls generates a rush of wind that blows right past us, followed by a gentle mist.
The group disperses. Some relax on large rocks overlooking the falls. Others stand at the lip of the shallow reservoir at the fall's base, dipping their toes or simply looking up in amazement. I dive right in. The water is cold and bracing, invigorating my weary body. Afterward, I lie out to dry on one of the boulders.
"Can't you just feel the energy of the falls?" asks one of my fellow tour members.
My plunge has given me a bit of the waterfall's energy. A good thing. Like the waters of Uluwehi Falls, I still have to make the journey back down the Wailua River.