Kilauea lava flows reach the ocean on the island of Hawaii
Two flows crossed the highway and entered the ocean at two spots.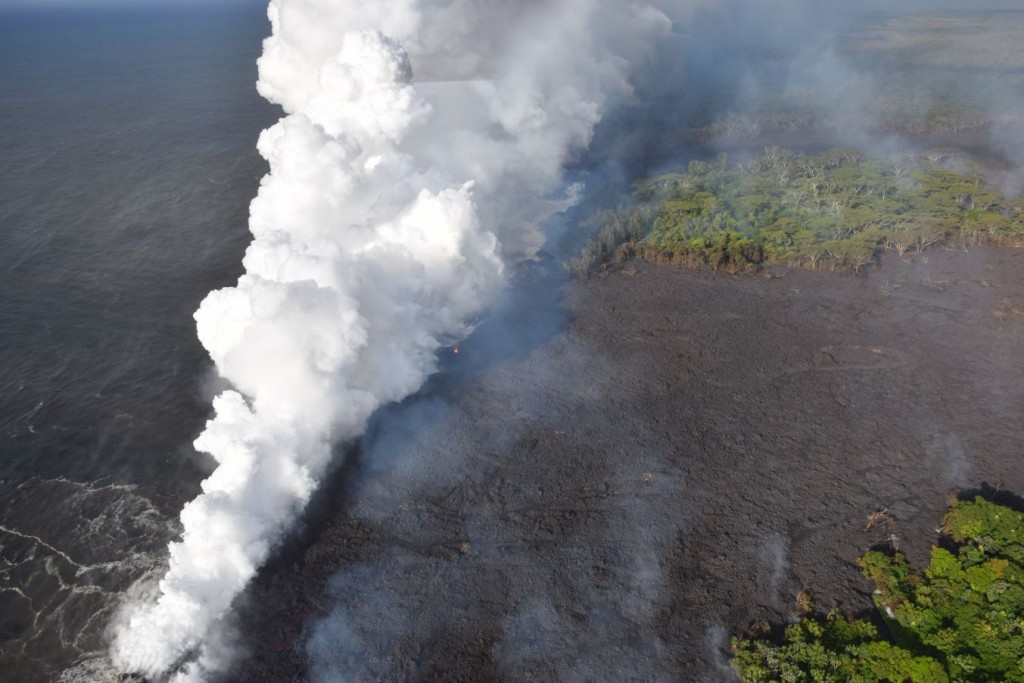 The lava has made it to the ocean on the Big Island of Hawaii. After more than two weeks and 23 fissures in the Lower East Rift Zone of Kilauea Volcano, two lava flows made their way across Puna's Red Road Highway and into the sea late last night. Lava Ocean Tours was one of the first to capture video of the flow before sunrise.
Activity had picked up the past few days with fissures 16 through 20, creating a continuous line of lava that has been traveling quicker and in more quantities. Scientists believe the lava from fissures in the first two weeks was older aa (rough and broken apart) lava that was trapped underground from past eruptions; but, recently, the faster pahoehoe (smooth and unbroken) lava has made an appearance and it's believed to be arriving from Puu Oo and now erupting from fissures 17, 18 and 20.
"The sequence that we expect to see right now is that the 1955 stuff that was stored underground is being pushed out, and we saw that in the past two weeks," said Carolyn Parcheta, a scientist with the USGS Hawaiian Volcano Observatory, at a press conference Saturday.
"The Puu Oo lava that drained on April 30th and started migrating down rift should be right behind that and so we expect to see a mixing trend and then it will fade into a dominant Puu Oo signature, then possibly behind that is stuff from further up rift and maybe even the summit. We are not quite sure where all that is in the system, other than that it's coming through the system."