Kilauea volcano lava flow destroys Kalapana home, reaches the ocean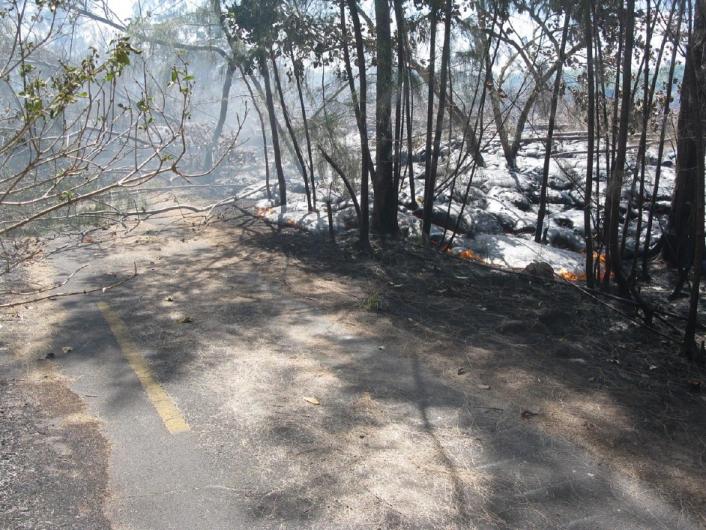 A slow moving lava flow from Kilauea volcano claimed a Kalapana home and finally reached the ocean yesterday, a week after entering the Big Island of Hawaii town for the first time since 1992.
After threatening the home—located near remnants of Highway 137, once Kalapana's main thoroughfare—for more than a week, a lobe of lava made a final move up the home's driveway before sunrise Sunday morning. By daybreak, all that was left of the two-story wood home was its roof and water tank.
Dramatic photos of the home's destruction were published today by London's Daily Telegraph newspaper, which initially reported the story. Click here to see a slideshow of the photos.
At 2 p.m. Sunday, the flow, as expected by Hawaiian Volcano Observatory geologists, finally advanced into the ocean off Kalapana with bursts of searing hot steam as molten lava met seawater.
Last week, lava flows from Kilauea volcano's east rift zone Puu Oo vent entered the boundaries of the Puna district town of Kalapana for the first time in years. Between April 1990 and February 1991, the small town and its Kalapana Gardens residential subdivision had been largely destroyed by lava flows from Kupaianaha, a now inactive vent two miles northeast of Puu Oo. In the years since, a handful of residents had moved back into the Kalapana Gardens area, rebuilding homes and makeshift roads over hardened Kupaianaha flows.
The property and home engulfed by lava on Sunday had been bypassed by every Kilauea volcano lava flow since the vent first erupted to life in January 1983.

The Hawaiian Volcano Observatory reported on its website this morning that no other homes in the area were in immediate threat of the flow. However, if you are on the Big Island this week and wish to visit the Kalapana site where lava is entering the ocean, be advised that access to the area is being limited by Hawaii County Police and Civil Defense officials.
HawaiiMagazine.com will continue to monitor news from HVO on the Kalapana lava flow. Keep checking back in for updates.
Updated Hawaiian Volcano Observatory photos of current Kalapana lava flow:
(Click photos to enlarge.)