Kohola Brewery hops into the Maui drink scene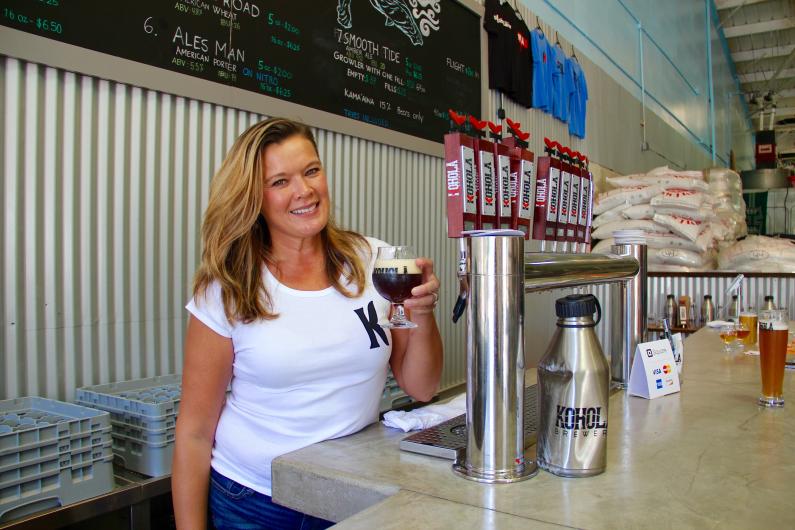 Kohola Brewery didn't waste any time opening for business on December 22, 2016, only a day after it got its liquor license. The brewery moved into the warehouse in Lahaina where Maui Brewing Co. got its start before transferring production to Kihei last year. Kohola Brewery is comprised of two husband and wife duos from Southern California—William and Susan Ramirez and Ian and Christine Elumba. The four of them, along with two brewers, run the entire operation.
Kohola Brewery purchased the 25-barrel brewhouse from Garrett Marrero, owner of Maui Brewing Co., in March 2015. Christine says Marrero is "out of this world supportive," adding that Kohola considers him to be a big brother because he is always available to answer any questions they may have. Marrero hopes to carry a Kohola brew or two in his facilities in the near future.
The warehouse is part brewhouse and part brewpub. Co-owner Ian explains its charm: "It's up close and personal. You smell it. You hear it." Indeed, the sound of beer brewing filters in and out, and the distinct smell of hops dominates the space. The atmosphere is inviting and homey. High-rise tables, chess and giant Jenga towers keep it casual and fun. Kegs, brewing equipment and bags of hops create the backdrop to the bar.
It's a small and intimate operation. "You come inside here, and you have this awesome feeling where you see the brewery, you see where the production is being done and you have the founders and owners here working it. It's really our heart and soul," says Christine.
When I visited guests from the unofficial beer state, Oregon, were enjoying some brews while on vacation. Christine says they showed up at 10:15 a.m., almost two hours before opening, but she invited them in anyway. "We have beer ready, so why not?"
Kohola Brewery is quickly expanding to many restaurants around Maui including Monkeypod, Fat Daddies, Merriman's Kapalua, What Ales You, Honu Seafood and The Westin. Ian spends his days taking sample growlers to prospective restaurants and dropping off kegs. Their beers include an American pale ale, German pilsner, American lager, rye IPA, American wheat, American porter and an amber ale, among others. Justin and Brittany Brouhard create all of the recipes out of California.
Kohola Brewery is focusing on making the best beer it can right now, with a rotating beer selection, kamaaina specials for residents, complimentary Wi-Fi and occasional guest food trucks like Ono's Taco Truck.
Open daily noon to 8 p.m. 910 Honoapiilani Hwy., Lahaina, Maui, facebook.com/koholabrewery, (808) 269-7975.