"Kona in a Cup": Everything you need to know about Kona coffee before you buy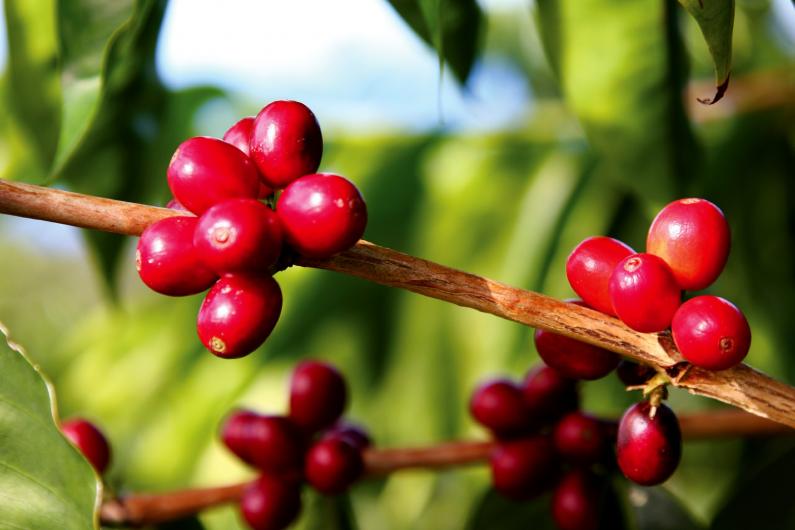 Hawaii is the only U.S. state where coffee is grown.
You'll find coffee farms on five Hawaiian Islands—Maui, Molokai, Oahu, Kauai and the Big Island of Hawaii. But the Big Island lays claim to the Hawaii-grown bean that is one of the most in-demand and most expensive in the world.
Kona coffee is that prized bean. Grown on just 2,300 total acres on a 20-mile belt of land on the steep slopes of Big Island volcanoes Hualalai and Mauna Loa, Kona coffee claims a price-per-pound, consumer awareness and marketing advantage no other coffee in the world can match.
In HAWAII Magazine's January/February 2010 issue feature "Kona In A Cup," we explored the popularity, history, business and mystique of Kona coffee. How did Kona coffee earn its worldwide acclaim? Why can a one-pound bag of 100% Kona coffee claim a price double or triple that of other beans? How much Kona-grown coffee does a cup of "Kona blend" actually have? What are some tips every Kona coffee fan searching for exceptional beans should know?
We visited Kailua-Kona's coffee country to get answers to the questions above and sample some great coffee.
Here and on the following pages we present the HAWAII Magazine feature "Kona In A Cup," in its entirety:
"Kona In A Cup"
By Derek Paiva
(from the January/February 2010 issue of HAWAII Magazine)
Barely 20 minutes from Kailua-Kona airport, and I'm already in Kona coffee country.
I'm headed south on Mamalahoa Highway, two lanes of historic blacktop winding through cool, green highlands more than 1,000 feet above the bone-dry Kailua-Kona coastline.
Welcome to the Kona Coffee Belt, a 20-mile stretch along the steep slopes of the two Big Island volcanoes, Hualalai and Mauna Loa. It's barely a mile across at its widest, but this corridor of rich farmland hosts about 800 small, mostly family-owned farms—farms that produce one of the most expensive and in-demand coffees in the world.
I'm cruising the belt hoping to find out firsthand how Kona coffee earned worldwide acclaim and a retail price as high as $60 per one-pound bag—and if it truly deserves both. I'm also here hoping to find some great coffee.
Hawaii is the only U.S. state where coffee is grown. Farms can be found on Maui, Molokai, Oahu, Kauai and elsewhere on the Big Island, with many of their owners producing, to some palates, even better tasting roasts than Kona. But Kona coffee, cultivated since 1828, remains Hawai''s best-known bean.
Holualoa, the coffee belt's main town is surrounded by coffee farms—some fields of trees next to the family home, some offering field tours and sample cups, some retailing their own boutique brands.
My first stop of the morning, Hula Daddy coffee, offers all of the above. From a rocking chair on the veranda of Hula Daddy's retail shop, you can gaze on owners Lee Paterson and Karen Jue's 11-acre farm and, far downslope, the Kailua-Kona coastline, all the while sampling as many cups of their fabulous brewed roasts as you want.
The couple bought the then-weed-covered patch of land in 2002, giving up corporate jobs in California—Lee as a litigation attorney; Karen as a human resources manager—for dreams of living and working on their own coffee farm.
Coffee trees take two years to mature and produce cherries—the red or green fruit whose center seed, or "bean," is roasted to make coffee. Adding considerably to that time, Lee and Karen had to drill into lava rock to plant each tree and wait to see if the roots would take.
Seven years later, Hula Daddy grows, roasts and retails seven varieties of coffee—many of them local- and international-award-winning. In December 2008, Hula Daddy's "Kona Sweet" roast received a score of 97 out of 100 from industry buying guide Coffee Review. Only five other coffees worldwide have ever achieved that score.
Spend a day tasting coffees from farms along the belt, and you'll quickly find that all Kona coffees are not created equal. Cups of joe I sampled were consistently good, but not always as crisp and complex in flavor as Hula Daddy's roasts. A couple of farms even proffered bitter, over-roasted brews that hardly delighted the palate.
"Just like wine, coffee is a process," says Jue. "It's not as simple as putting the apple in the carton and sending it out to market."
Most growers frown on offering a general flavor profile for Kona coffee. "It would be like saying all wines from Napa Valley taste a certain way," sniffed one roaster, when I asked. Still, Karen Jue takes a shot for me.
"In general, Kona coffees are milder and smoother than other coffees. It shouldn't be bitter. It shouldn't leave an aftertaste," says Jue. "A good Kona coffee should taste good black, without a burning sensation in the back of your mouth and tongue."
Not surprisingly, Hula Daddy has invested heavily in its farm, facilities and roasting personnel, all with a goal of producing coffees that taste great and win awards. Lee and Karen were also wise to early on seek out the knowledge of longtime area coffee farmers.
With rich volcanic soil and a year-round mild climate, the Hawaiian Islands provide an ideal location for growing coffee. But the Kona Coffee Belt takes even these idyllic conditions a step further, says Virginia Easton Smith, an agricultural extension agent with the University of Hawai'i.
"In Kona, we have weather that's both cool enough and warm enough," says Easton Smith. "We have a lot of rain in the summer when the coffee is developing. For most of the harvest season—when a lot of the coffee is sun-dried—we have sunny, dry weather.
"We also have a long history of growing coffee here, compared to the rest of the state."
Coffee production in Hawaii thrived on large plantations through the mid-19th century until a worldwide drop in coffee prices nearly killed the industry in 1860. Another coffee-price boom and bust in the 1890s almost did the same, but this time changed the industry for good.
The smaller 2- to 5-acre independent farms that grow Kona coffee today are remnants of that change. Many were founded more than a century ago by Hawaii's multicultural immigrants who bought up small parcels of the big plantation lands.
Rising and falling coffee prices affected Kona farmers through the 20th century. But, in modern times, the industry has thrived, by wisely using Kona coffee's relative scarcity—it is grown on only 2,300 total acres, producing 2 million pounds annually—and its high price-per-pound to its marketing advantage.
The "100% Kona Coffee" label is now highly valued—certified and protected by Hawaii law. The coffee itself—with its exotic name and cost per pound double or triple that of other beans—is largely accepted by specialty coffee consumers as worthy of its price. Whether it deserves the price on taste alone, however, remains a debate in coffee circles.
One doubter is Hawaii coffee expert and consultant Shawn Steiman. "In general, Kona has produced better coffee than most coffee in the world over its long history," he says. "There are still pockets of really great coffee coming out. But, honestly, for Kona, I think most of [its success] is reputation right now."
Steiman points out that much of Kona's price comes from where it's grown—in the U.S., on an island in the middle of the Pacific. "Farmers have to contend with labor laws that other countries don't," he notes. "All coffee is flown out of Hawai'i to get it to market faster." Kona coffee farmers have high land, labor and transportation costs. That results in coffee whose price premium is sometimes not justified by its quality, in Steiman's view.
Some Kona, however, is clearly worth the money. How does one achieve a superb Kona coffee? Roasting has a bit of an effect, says Steiman, who authored a tome on Island-grown beans, The Hawaii Coffee Book. So does the elevation at which the tree is grown, where it is grown, the soil, the climate and how healthy the tree is kept as it ages. But there's no real guaranteed formula for success.
"Coffee has switched from a commodity crop in Hawaii to an artisan product. And some artisans are better than others," says Steiman. "Those who are really passionate, like Hula Daddy, are going to have coffees that stand out and are really interesting. They have nuances that you think about, as you would an exceptional Scotch, or a chocolate or a cheese."
Easton Smith, who works closely with farmers, agrees that not all 100 percent Kona coffees are created equal. But she doesn't think the product is overpriced.
"Kona coffee comes from different areas within Kona, different elevations and farmers with varying experiences in growing and processing. You can have an excellent green [coffee] bean, and the roasting can make or break it," says Easton Smith. "But, obviously, farmers are not making a lot of money here. I think Kona coffee is fairly priced based on production costs. It may even be a little low, believe it or not."
One reason for the cost is the harvesting process.
"Coffees on Kauai, Maui and Molokai are all machine harvested," says Easton Smith. "But here in Kona, because of the terrain, everything is hand-picked and a lot of it is small-scale processed."
Still, says Smith, it's not the price of 100 percent Kona coffee that most concerns her. If you want to know just how valuable the Kona label has become in the coffee world, look no further than the proliferation of so-called "Kona-blend" coffees. Since blends are much lower-priced than 100 percent Kona coffees, they've gained a strong popularity with consumers.
But a Kona blend is not a blend of various Kona coffees. Instead, it's coffee from, well, almost anywhere. "If you're having a Kona blend, it's very likely you're consuming 10 percent Kona coffee and a 90 percent mixture of Central and South American coffees," says Easton Smith.
Hawai'i state law requires blend producers to clearly label the percentage of Kona coffee mixed into every bag sold in the Islands. But federal law doesn't extend the same protection.
"On the Mainland, you could probably sell anything as Kona blend and there's no regulation," said Easton Smith. "Anyone there could buy any coffee from South America or anywhere else and call it 'Kona style' or 'Kona-style roast,' because there's no legal definition. They could call it 'Kona blend' and have one bean in the bag."
Easton Smith supports new federal labeling laws to protect the Kona coffee name, and also to increase the minimum Kona coffee requirement for Kona blends. That said, she also believes Kona blends have a place in retail.
"I think if we ban blends, we'd probably see a huge drop in the price of cherry, which would be devastating for the farmers," says Easton Smith. "I think there are some good blends out there. But at 10 percent, you're hardly getting any of the Kona characteristics."
For consumers, however, the difference between a blend and a 100 percent Kona coffee can be a $12-per-pound versus a $30-per-pound question.
Says Steiman: "There is a difference, and it's up to the person drinking the coffee to discover that difference. At the end of the day, it may not be important enough to you to spend for the difference. But I'd rather have the consumer make that educated choice than to not."
To that end, Steiman offers some tips for Kona-coffee fans who are searching for exceptional beans, whether buying from a roaster or farm in Kona, or buying online.
"If you're [in Hawaii], buy from a reputable roaster. Make sure it's not roasted too dark. Make sure it's been a week or two since it was roasted," says Steiman. If you're searching the Web for Kona coffee, take some time to learn about the farmers or roasters.
"What's unique about our coffee industry from most any in the world is that you can have phone or e-mail conversations with the farmers, and get to know them and know their story," says Steiman. "If I couldn't sample the coffee, I'd much rather buy from somebody who's willing to teach me or talk to me."
There are exceptional coffees in Kona. You just have to look for them. I find another one on the eve of my last day in town—an intense, yet smooth and nutty medium roast from The Kona Coffee & Tea Co. The next morning, Malia Bolton, director of operations, drives me up the slopes of Hualalai to her family's 122-acre farm, 2,500 feet above sea level.
The Bolton family began growing coffee on just 20 acres in 1997 when Malia was a sophomore in high school. The plan was to sell their coffee to bulk buyers. But when the trees matured, the Boltons began experimenting with roasting. In 2003, their coffee took first place in the Gevalia Kona Coffee Cupping Competition, which annually selects the best bean on the belt.
The Boltons moved quickly to open a retail operation for their newly award-winning coffees. After graduating from college, Malia joined the family business and now has an award-winning organic offshoot crop of her own, Malia Ohana, growing on 8.5 acres in south Kona.
Kona Coffee & Tea Co. took first place at the Gevalia cupping competition again last year, this time in a category for larger farms.
Malia stops the pickup at the family farm's highest elevation so I can survey its rows of coffee trees, heavy with amber cherries.
"It's hard work, and you really have to want to do it. The land's not going to do it on its own," she says. "You have to be out here day in and day out.
"But I like working with my family, working with other growers and being home again. It's really a friendly industry, not a cutthroat one. People are willing to help each other. There are people that encourage me, give me advice. I feel that love.
"Plus, I really love doing this."
That love turns out coffee that's more than worthy of Kona's reputation.