Kono's opens upscale tapas bar in Kaimuki, Oahu
The Surfing Pig is a trendy taphouse, but keeps true to its humble beginnings.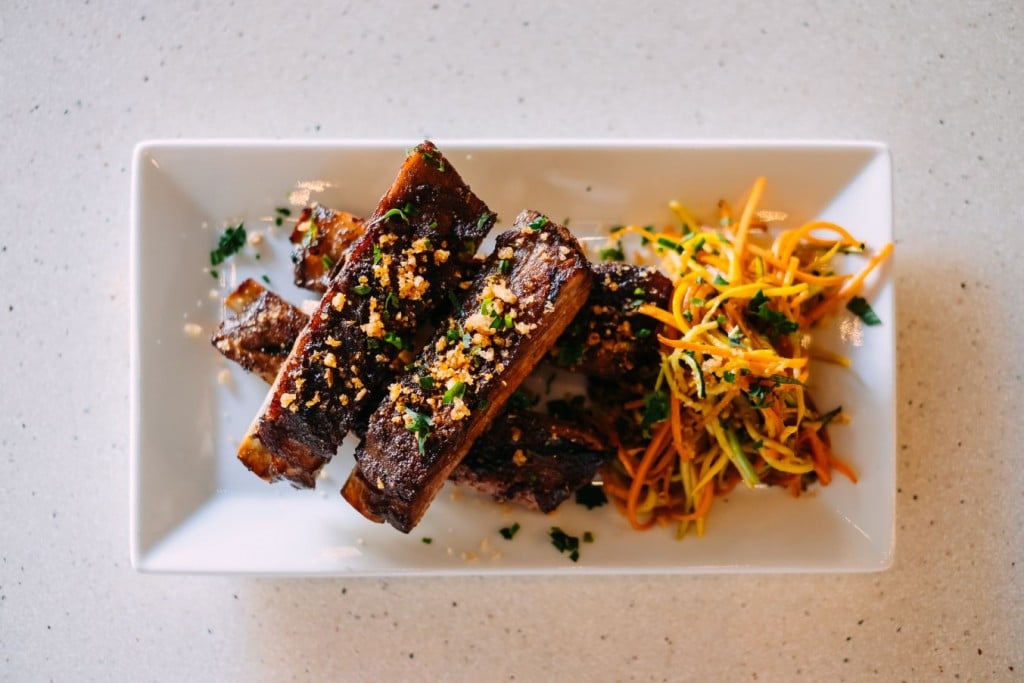 There's something undeniably cool about The Surfing Pig. Situated between Coffee Talk and Sprout Sandwich Shop, this tapas bar stands out, which is not an easy task in Oahu's culinary cornerstone of Kaimuki. Maybe its owner, Stan Glander, took a few notes from his other wildly successful breakfast ventures, Kono's North Shore, Kono's Kapahulu and Kono's Kailua. Or maybe it's the cozy interior, which melds the bar and eating area together seamlessly.
Working with a small, intimate space, The Surfing Pig does well with its second-floor dining area, which overlooks the hip bar and counter seating below. Strewn across the restaurant are portraits of ocean photography evoke feelings of country wanderlust, while exposed pipes, low-lighting give it an ambiance of chic, industrial swank.
The small, sharable plates on The Surfing Pig's menu go great with a beer or cocktail, and is best enjoyed with friends. A prime example: the kampachi carpaccio—fresh kampachi is dressed with truffle oil and topped with cored Fresno chilis, Hawaiian salt and lemon zest. With each bite of the kampachi carpaccio being filled with sharp flavors produced by the various spices and salts, it's a light pupu (appetizer) that won't get you overly stuffed. The seafood platter also works as an accompaniment to some of the restaurant's more flavorful drinks, such as the Smoking Pig, a twist on an Old Fashioned, which features a bacon-infused bourbon and an actual strip of bacon basking in the drink.
And the ribs. Oh, the ribs. Marinated St. Louis style and topped with a chicharrón crumble, each rip and tear at these sweet and savory meat sticks is only made better by downing it with one of the many beers on tap.
And the hits keep coming with the brick chicken, one of The Surfing Pig's few entrees. A lightly seasoned boneless chicken, pressed and pan-fried, that's unbelievably tender. Mixed in with Sriracha fried rice, Kono's classic kalua pig makes a welcome appearance, adding a tang of salted, slow-roasted meaty goodness to each spicy, mouthful of rice. Add on to this locally sourced Hamakua mushrooms that are covered in a lemon beurre blanc, which creates a sweet, creamy texture that will drive mushrooms fans wild, and it's clear why The Surfing Pig labels itself as a refined local dining experience.
With attentive servers casually joking alongside customers and bartenders, who tell funny anecdotes while opening bottles of wine, the staff at The Surfing Pig takes their time to make you feel at home. More importantly, it feels like everyone knows everyone here, sharing plates, drinking together, escaping the hustle and bustle of city life and having a great time.
Open Monday through Friday from 4 to 10 p.m., Saturday and Sunday from 4 to 11 p.m., 3605 Waialae Ave., thesurfingpig.co.