Lahaina planning weekend birthday bash for Hawaii's largest banyan tree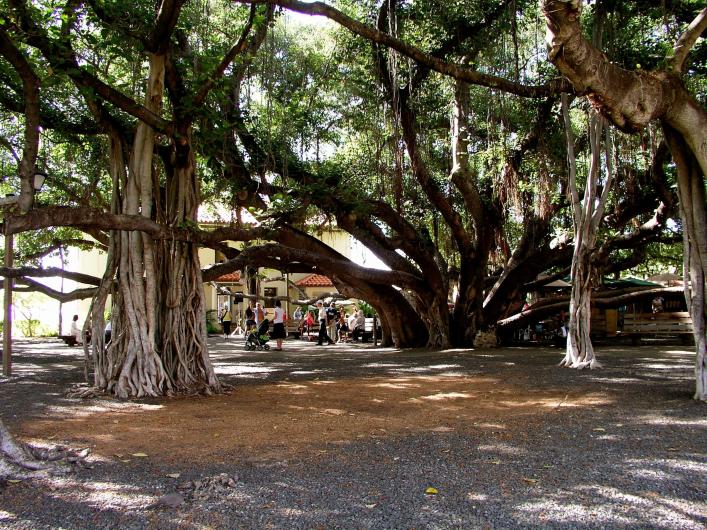 There will soon be a lot of tree-hugging under way in Lahaina's downtown area.
On Saturday April 23 — the day after Earth Day, actually — and Sunday April 24, West Maui's Lahaina Town Action Committee will host a birthday celebration in Banyan Tree Park. Festivities will be situated under the guest of honor — a Lahaina resident since April 24, 1873,
The birthday banyan stands more than 50 feet tall and serves as canopy over two-thirds of an acre in the heart of the historic town, a former whaling community known for art galleries, restaurants and shopping areas.
Party host, the Lahaina Town Action Committee, a nonprofit that aims to preserve historical, cultural and commercial vitality in Lahaina, maintains that the banyan tree is the largest in Hawaii — and among the largest in the United States.
Sheriff William Owen Smith planted the tree 138 years ago to honor the 50th anniversary of the first Protestant mission in Lahaina, which started at the request of Queen Keopulani, according to a commemorative marker.
The Indian fig specimen, which was about 8 feet high when tucked into Lahaina soil, has since added a dozen trunks. Older banyan trees fan out laterally by way of aerial prop roots that grow into subsidiary trunks, which can eventually become more or less indistinguishable from the original trunk.
How do such trees surviving for well over a century? Heedful horticultural care helps. So does the backing of state law. In 1975, Hawaii's Legislature passed the Exceptional Tree Act, which protects trees of "exceptional stature." While many of the designees grow in Hawaii's botanical gardens others are scattered about on both public and private properties. Lahaina's famous landmark is maintained by volunteers.
The Lahaina banyan's birthday party, set for 9 a.m. to 5 p.m. on Sat., April 23, and 9 a.m. to 4 p.m. on Sun. April 24, will feature plenty of live music, a magic show, silent auction, hands-on activities for children and, of course, a banyan-sized birthday cake. Will there be 138 candles on the cake? You'll have to stop by the party for cake-cutting at about 1 p.m. Saturday to find out.
More information about the free banyan tree birthday bash and other Lahaina events is available at the Lahaina Town Action Comiittee website.