Lanai's new owner envisions island as "laboratory for sustainability"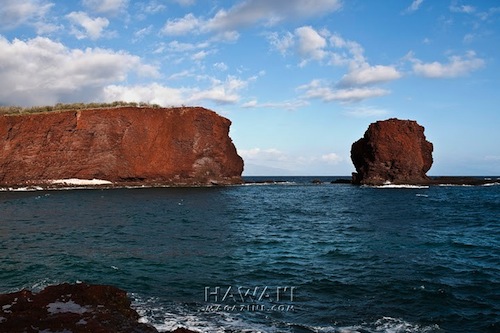 For almost three months, Lanai residents have held their collective breath in anticipation of finding out what Larry Ellison wants do with the Pineapple Isle.
In June, Ellison, co-founder and chief executive officer of Oracle Corporation, the world's largest business software company, wrapped up a deal that made him the owner of all but a small slice of Lanai.
During an interview earlier this week on CNBC's "Closing Bell" with Maria Bartiromo, Ellison spoke publicly about the sale for the first time. He briefly described his vision for establishing the island as a model for green-minded living, but did not offer specifics about timeframe or the scope of his vision.
In response to Bartiromo stating: "We know that you've made tons of headlines recently, buying an island in Hawaii," Ellison said: "I love Hawaii, and Lanai is a very interesting project." Ellison continued: "There, what we are going to do is turn Lanai into a model for sustainable enterprise."
According to news reports, Ellison purchased 98 percent of the 141-square-mile island about $500 million. The deal includes the island's two resorts, a golf club, and the island's water and electric utilities. (Maui County, in tandem with the State of Hawaii, owns the remaining 2 percent-slice of the island.)
"The electric utility is all going to be solar, photovoltaic and solar- thermal," Ellison said during the interview. "We're going to convert sea water into fresh water. And then, have a drip irrigation where we're going to have organic farms all over the island."
What does this mean for some 3,200 Lanai residents? Ellison said, "We're going to support the local people and help them start these businesses."
In a news report published by NBC News and wire services, Ellison's ideas were greeted with both support and skepticism.
"We have been working towards sustainability for years. We know tourism alone can't sustain Lanai. We all understand this has to happen," Alberta de Jetley, owner of Bennie's Farm on Lanai, said in the report.
About 26,000 tourists visited the island in the first quarter of this year, according to the state figures.
Jennifer Chirico, executive director of Sustainable Living Institute of Maui, said in the report: "It's going to take a lot of work and there are challenges." She added, "It's a long-term strategy, but it's exciting. Because of the size of Lanai, with just 3,000 people, this is really an opportunity to test sustainability for islands around the world."
During the "Closing Bell" television news show interview, Ellison said: "So it is going to be a little, if you will, laboratory for sustainability in businesses of small scale."
With 90,000 acres of land, including a total of nearly 50 miles of coastline, Lanai — the state of Hawaii's smallest publically accessible island — is believed to be the largest privately held island in the United States. Most of the 430 miles of roads are unpaved and there are no stoplights. At its widest point, Lanai's terrain stretches for 18 miles between shorelines. The sale price has yet to be publicly disclosed.
To see the full NBC News and wire services report, click here. To check out the transcript of the Ellison interview on the "Closing Bell" show, click here.