Lantern Floating Hawaii a Memorial Day tradition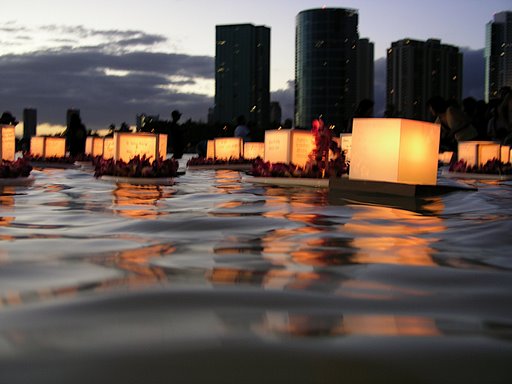 Monday evening marks the return of the annual Lantern Floating Hawaii ceremony—one of Hawaii's most visually breathtaking and poignant events.
We attended last year's event, at Honolulu's Ala Moana Beach Park—along with 40,000 Hawaii residents and visitors. As you can see below in a slideshow of photos we took, the sunset ceremony is a sight to behold.
Lantern Floating Hawaii is based on Toro Nagashi—a Japanese ceremony started by the Shinnyo-en Buddhist order in 1952, and traditionally held in July and August to mark the end of Obon festival season. Translated literally, the words toro nagashi mean "lantern offerings on water."
Hawaii's Shinnyo-en order holds its ceremony annually on Memorial Day to honor lives lost in war, and to remember departed loved ones. There are prayers for a future filled with peace and harmony.
Participants write the names of the deceased and messages of comfort on paper lanterns, which are then set adrift onto the open ocean. This year more than 2,000 candle-lit lanterns will be released from Ala Moana Beach.


A limited number of lanterns will be available to the public beginning at 1 p.m. Monday. Go early, as the lanterns usually run out fast. But attend even if you are not launching a lantern.
While the ceremony is Buddhist in origin, Hawaii's version reflects the Islands' diverse collection of faiths and backgrounds. Previous ceremonies have featured everything from Hawaiian chant and hula to Japanese Taiko drumming. This year's 10th anniversary lineup includes diverse mix of acts including members of the Honolulu Symphony, R&B singer Christina Souza, Halau Hula Olana and German trumpeter Matthias Höfs.
Free parking is available at the Hawai'i Convention Center beginning at 9 a.m. with free roundtrip shuttle and handicap bus service beginning at 4 p.m. The ceremony begins at 6:30 p.m., is free and is open to the public.
For more information on Lantern Floating Hawaii, click here.
Can't make it Monday evening? Local television station KGMB9 will be streaming the ceremony live on the Web here.
Click on slideshow frame to enlarge photos.