Lantern Floating Hawaii a must-see tradition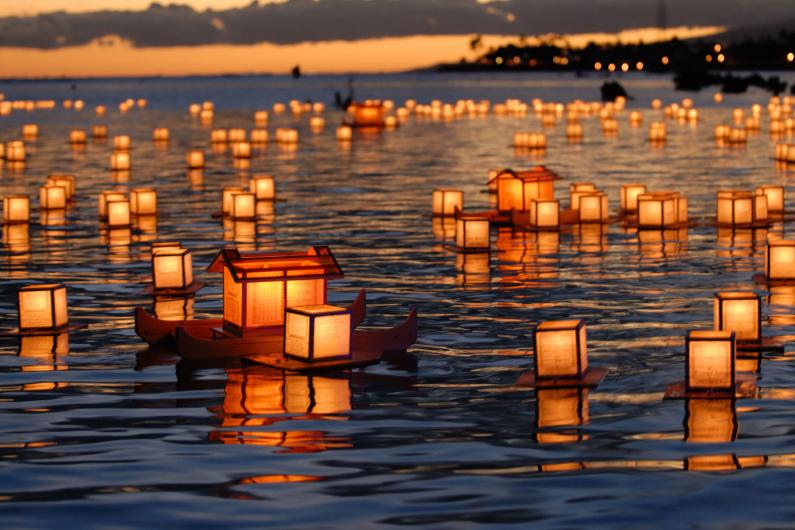 If you're on Oahu on Memorial Day, here's a must-attend.
Lantern Floating Hawaii is Honolulu's version of Toro Nagashi, a Japanese tradition which translates literally as "lantern offerings on water."
Each Memorial Day at sunset, thousands of Honolulu residents and visitors gather at Ala Moana Beach Park to honor those who have lost their lives in war, loved ones who have passed away, and pray for a future of peace and harmony.
It's a breathtaking ceremony: More than 1,600 candlelit paper lanterns drift into the gentle waters off the beach as dusk descends—each with names of loved ones, and messages wishing them comfort in their spiritual journey.
The Toro Nagashi ceremony was started by the Shinnyo-en Buddhist order in 1952. It is traditionally held in July and August in Japan, coinciding with the end of Obon festival season. Hawaii's Shinnyo-en order elects to hold it on Memorial Day—to also honor lives lost in war.
In its decade in Hawaii, the ceremony has transcended its Buddhist roots, becoming one attended by more than 35,000 people of all religions and cultures.
This year's 10th anniversary of Lantern Floating Hawaii begins at 6:30 p.m. on Monday. Arrive at Ala Moana Beach in the early afternoon for the best spots, or between 1 and 6 p.m. for one of 800 lanterns available to the public to float with personal messages.
Park free at the Hawaii Convention Center beginning at 1 p.m. A free shuttle will offer rides to Ala Moana Beach Park from 4 p.m. More information on Lantern Floating Hawaii is here.
Can't make it? We'll be at the ceremony to take some photos—maybe some video—and post it here after the ceremonies.
Have any of you out there ever experienced this? What did you think?