Lantern Floating Hawaii ceremony on Memorial Day. Watch it live online.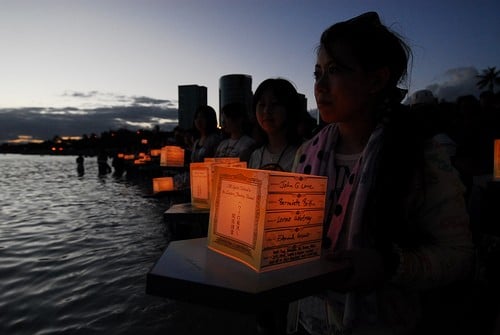 The Lantern Floating Hawaii ceremony—one of the Oahu's most visually breathtaking annual events—returns on Monday evening, May 31, to Ala Moana Beach Park.
If you've never seen it in person, it's a must-attend—Honolulu's version of Toro Nagashi, a Japanese tradition, which translate literally as "lantern offerings on water."
Each Memorial Day at sunset, more than 40,000 Honolulu residents and visitors gather along Ala Moana Beach to remember loved ones who have passed away and pray for a peaceful future. At the shore as night falls, they set adrift more than 2,000 candlelit paper lanterns into the calm waters of the sheltered beach. Each floating lantern carries the name of loved ones, with messages of comfort for their spiritual journey.
The Toro Nagashi ceremony was founded by the Shinnyo-en Buddhist order in 1952. In Japan, it is traditionally held in July and August, coinciding with the end of Obon festival season. Hawaii's Shinnyo-en order has always held the ceremony on Memorial Day—to also honor lives lost in war.
Lantern Floating Hawaii's 12th annual ceremony begins at 6:30 p.m. on Monday. We recommend arriving much earlier for the best spots on the beach. If you want to float a lantern, a limited number are distributed beginning at 1 p.m., but they usually run out fast so, once again, arrive early. Either way, what you'll really want for the evening is a camera to capture it all—a point we think should become pretty obvious once you take a look at our slideshow on the next page.
Free parking will be made available at the Hawaii Convention Center, beginning at 9 a.m. that day. Ala Moana Beach is a short walk walk away. At 4 p.m., a free shuttle begins making roundtrips from the convention center to Ala Moana Beach Park.
Lantern Floating Hawaii is free and open to the public. For more information, visit Lantern Floating Hawaii's website.
If you can't make it to Ala Moana Beach Park on Monday evening, Hawaii television station KGMB9 will be broadcasting the ceremony live from 6:30 p.m. (Hawaii time), and streaming it live online. Click this link to watch Lantern Floating Hawaii live online, Mon., May 31.
Hawaii Magazine.com Lantern Floating Hawaii slideshow
(Click frame to enlarge photos)