Lantern Floating Hawaii to launch 5,000 glowing memorials on Oahu's south shore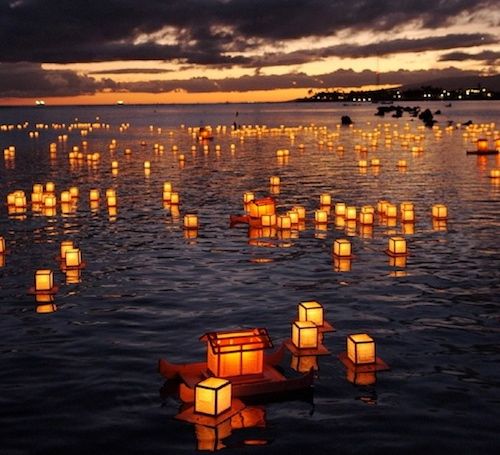 At sunset on Memorial Day, more than 5,000 glowing lanterns will illuminate the waters edging Ala Moana Beach Park's Magic Island on Oahu.
Inscribed with messages to loved ones who have passed away and prayers for a peaceful future, the lanterns—perched atop miniature floating boards—will be launched during the 15th annual Lantern Floating Hawaii ceremony before a large shoreline crowd. If you've never taken part in Honolulu's version of Toro Nagashi, a Japanese Buddhist tradition, which translates as "lantern offerings on water," we recommend checking out this poignant Hawaii tradition.
The Toro Nagashi ceremony was founded by the Shinnyo-en Buddhist order in 1952. In Japan, it is traditionally held in July or August, coinciding with the end of annual Obon festivals, which honor the spirits of ancestors as well as those of family members who have recently passed away. Hawaii's Shinnyo-en order officiates the ceremony on Memorial Day to also honor lives lost in war.
This year's free ceremony will get under way at 6 p.m. on Mon., May 28, with music performances followed by an address given by Her Holiness Shinjo Ito, head of Shinnyo-en Buddhist Order. The event is presented by Shinnyo-en Buddhist Order of Hawaii and its secular, community-building arm, Na Lei Aloha.
Organizers describe the symbolism of the drifting lanterns as "an experience that transcends all human divides of culture or belief. In that moment there is only peace, harmony, understanding, compassion, and warmth, without boundaries of race, religion or lifestyle."
If you would like to float a lantern during the sunset ceremony, plan to swing by the beach several hours earlier. A limited number of lanterns will be distributed, beginning at 10 a.m., and will be snapped up quickly.
For additional information about the annual Lantern Floating Hawaii ceremony, click here.