Last chance: Complete Best of Hawaii ballot, qualify for free gift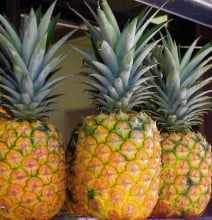 What's your favorite town in Hawaii? Place to stay? Favorite treat or indulgence in Hawaii? Is it Kona coffee or fresh pineapples? Tell us. We want to know.
If you haven't already filled out our Best of Hawaii ballot, you still have time.
There's two ways you can participate: fill our ballot out online and submit it electronically—or print it out, fill it out by hand and mail it. It's your choice.
Hurry. The deadline is Friday, June 13, 2008.
Readers who submit their ballots in time will be entered into a drawing. Ten lucky readers will be randomly chosen to receive a gift from Oils of Aloha.
The Best of Hawaii results will be featured in our September/October 2008 issue. Till then, we'd love to hear your thoughts.
UPDATE: The contest is now closed. The deadline was June 13, 2008.