Lava lake revealed roiling below Kilauea volcano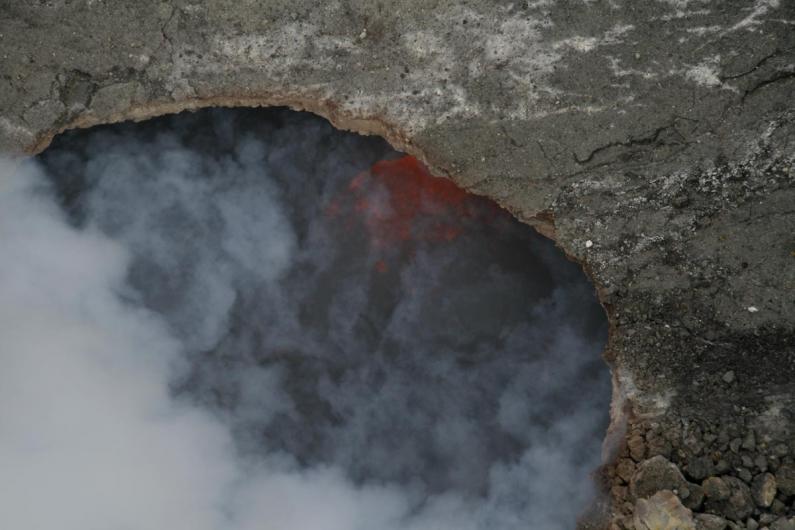 A lava lake is bubbling under the surface of Kilauea volcano's summit.
Scientists at the Hawaiian Volcano Observatory on Hawaii's Big Island discovered the lake yesterday during a routine flyby over the summit's active Halemaumau crater vent. It was the first time they had seen such activity at the vent since it opened up with an eruption on March 19.
The sloshing 160-foot diameter lava lake is about 330 feet below the rim of the vent. HVO scientists have long speculated that magma was bubbling just below the surface of the vent, but were unable to visually confirm this until yesterday's helicopter flyby.
On Tuesday evening, an explosion rocked the Halemaumau vent enlarging it slightly and ejecting lava spatter as high as the crater rim (left, click to enlarge). The explosion was the vent's sixth of note since activity began in March. The explosions have doubled the size of the vent to more than 215 feet across since April (below photo, click to enlarge).
Scientists say that the volume of material ejected in Tuesday's explosion and the vent's unusually bright incandescence on recent nights are consistent with lava ponding just below the surface of the vent.
If you go to Hawaii Volcanoes National Park, know that the lake is not visible from the Thomas A. Jaggar museum overlook. But the overlook offers great views of the vent's familiar steam and gas plume by day and incandescence by night.
And check out all of HawaiiMagazine.com's posts on Kilauea volcano's very active, often dramatic, 2008 here. We've got lots of great photos from HVO scientists and friends living near Kilauea.
Click on the frame below for HVO video footage of Halemaumau's lava lake.