Lava Lava Beach Club is Kauai's toes-in-the-sand restaurant and bar
Casual, fun and laid-back, the Kapaa lounge offers fresh island cuisine and cocktails on the beach.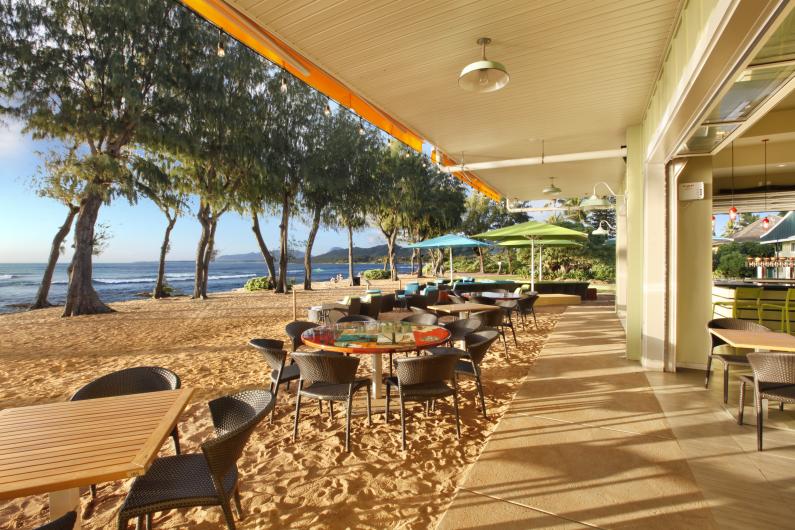 Lava Lava Beach Club offers Kauai's unique toes-in-the-sand dining experience, complete with blue ocean views, daily live music and tropical cocktails you can sip straight from a freshly cracked coconut. The waterfront restaurant and bar opened in January 2016 at the Kauai Shores Hotel, conveniently located in the lively town of Kapaa on Kauai's historic Coconut Coast. If the fresh-caught fish, flatbreads and maple bacon bloody mary don't draw you in, the swaying coconut trees and gentle sound of the waves lapping against the shore almost certainly will. "We have people literally come out of the water dripping wet and jump at a table," says Jose Fuentes, Lava Lava's general manager. "It's fun and laid back with a little bit of elegance."
Lava Lava Beach Club offers the perfect pairing of fresh island cuisine served in a relaxed, paradisiacal atmosphere. On the Saturday morning that I visited this newest addition to the Kapaa dining scene, breakfast-goers enjoyed burritos filled with eggs, bacon and French fries and bloody marys accented with spicy Portuguese sausage skewers while taking in views of surfers gliding across glassy waves breaking just steps from their dining tables. "Sunrise is a big draw here," Fuentes says. "The whole sky puts on a show."
It's conveniently located in the town of Kapaa — a short drive from Lihue Airport and central to all of Kauai. There are 250 open-air seating options, including lounges, tables and couches right on the beach where Ben Stiller's 2008 action-comedy "Tropic Thunder" was filmed. The restaurant is open daily from 7 a.m. to 9 p.m., serving breakfast, lunch, happy hour and dinner. Daily music typically runs from 5 to 9 p.m.
Lunch options include the Out-Standing Ahi Nachos: fresh-caught blackened ahi and guacamole on standing tortilla chips ($16). Also available is the marinated chicken sandwich with caramelized onion, arugula and yuzu-lilikoi (passion fruit) aioli ($15), spinach-arugula salad with gorgonzola and candied macadamia nuts ($15), local beef burger with sweet onion ($15) and Parmesan Lava Tots—a signature appetizer of parmesan-smothered tater tots ($12). On all menus there are gluten free, vegetarian and vegan options.
The lunch and dinner menus include a range of island-inspired flatbreads ($16), such as the kalua pork flatbread, made with mozzarella, hoisin-honey mustard and spiced candied pineapple, or the margarita flatbread (pictured above, center). All flatbreads are made with a thick pomodoro tomato sauce imported from Italy.
Sandy Toes—a salt and pepper rimmed glass poured with Bombay Sapphire gin and St. Germain liquor muddled with blueberries, fresh squeezed lemon and sage ($12)—is one of more than a dozen artisan cocktails on the bar list. Local craft and imported beer and wine are also available.
There are off-the-sand seating options, too. An open-air bar and dining room offers ocean views as well as television entertainment. "If you want to have a really fun time with a great dinner, this is the place to be," Fuentes says.
420 Papaloa Road, Kapaa, Kauai, (808) 241-5282, lavalavabeachclub.com/kauai.