Leiala Cook: 5 things I love about pau riding
The former Aloha Festivals Parade chairperson and president of Hawaii Pau Riders elaborates on the beautiful tradition.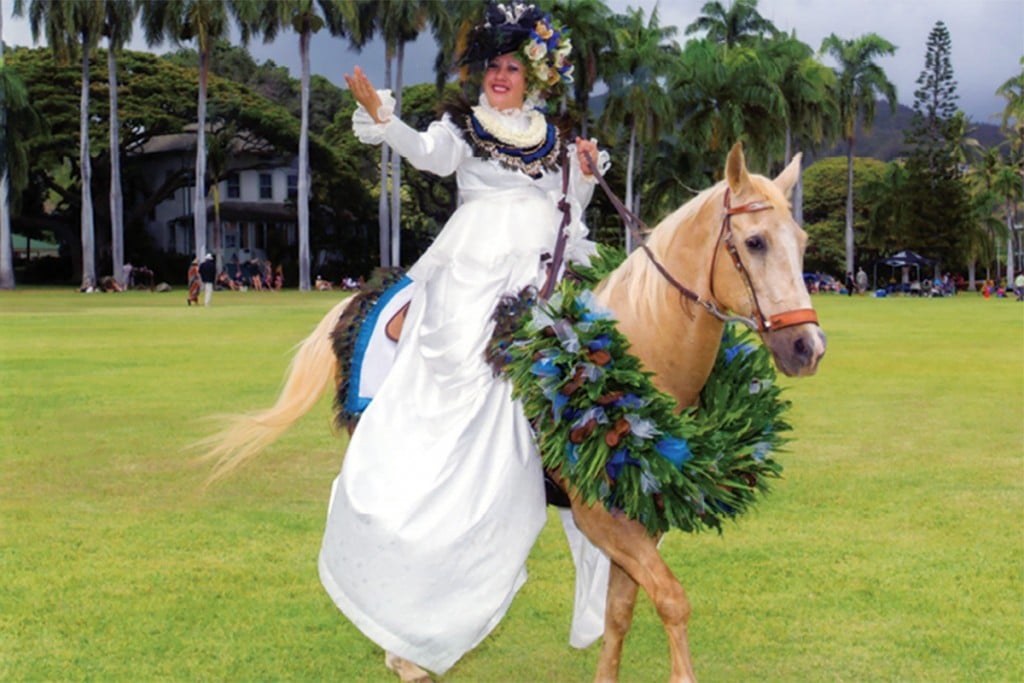 Each September, the Aloha Festivals cultural celebration honors a time in our Islands' history when the Hawaiian culture's monarchy, customs and traditions were part of the fabric of everyday life. The fests' spectrum of events includes royal court investitures, ceremonies marked by hula and chant, and a street-closing Waikiki hoolaulea (celebration). The most beloved of these is arguably the Aloha Festivals Floral Parade, with its flower-bedecked floats, hula troupes and spotlight-stealing pau riders.
Poised, elegantly dressed women, each representing one of the eight main Hawaiian Islands, pau equestriennes convey a gracious spirit reminiscent of Old Hawaii as the parade winds down Waikiki's Kalakaua Avenue.
"We revive the art of pau from the 1800s when women wore the pau, or "long skirt," to protect their ball gowns from dust as they rode to events," says Leiala Cook, one of Hawaii's most respected riders. Cook participated in her first Pau event at age 9 and helped her parents, veteran riders John and Lita Cook, at big parades.
"I helped with the flowers and with lei for the horses," she says. "And always, I would wait and watch for them to come down Kalakaua Avenue."
In 1981, Cook's parents founded Hawaii pau Riders, an equestrian group that has since travelled to Europe and the mainland U.S. for parades and events. Lita Cook, known as "queen of the pau riders," co-chaired equestrian events for the Aloha Festivals Floral Parade for 16 years before passing away in 2003. Leiala took over as chair to keep her mother's legacy and family tradition alive. Preparation for the floral parade begins months in advance to allow riders to raise funds for the event.
"Renting a horse just for parade day can cost $700," says Leiala. "Then there is the fabric for the pau, and flowers." She encourages fans of the parade to purchase an Aloha Festivals ribbon or button to help support the riders.
"After all," Cook says, "pau riding is unique to Hawaii."
5 things I love about Pau riding
1. Tradition
"I love being able to pass on what I have learned from my parents and from kupuna (grandparents), perpetuating the Hawaiian culture and the art of pau. Just knowing that I am keeping the traditions alive is a wonderful feeling."
2. Sharing
"Sharing the aloha spirit with everyone worldwide is awesome, especially on the Mainland. In January, we took 16 pau riders to the Rose Bowl Parade in Pasadena. To hear the spectators shouting, 'Aloha!' and waving shaka signs on the parade route was overwhelming."
3. Teaching
"I love teaching the next generation the art and skills of pau that our ancestors created. We use only six rough kukui nuts and string to drape 12 yards of fabric on the rider, without buttons or zippers. We make lei for the riders and horses. We teach horsemanship—how to ride in a parade. And, just like in hula, we convey our beautiful culture to the crowds through hand gestures."
4. Adrenaline
"I love the adrenaline rush I get from the parade and seeing all the kupuna, keiki (children) watching with their parents, and all the spectators and visitors. It's a long day. We start getting ready at 1 a.m. But when you're on the parade route, it's 'chicken skin' [a goosebump moment] and you just want to do it all over again!"
5. A dream come true
"Many women will tell me they watched the parade as children with their parents. Many times girls say to me it is their dream to be a pau rider. I cry when they tell me that. Sometimes, we can make that dream come true."
2018 Aloha Festivals Floral Parade
Saturday, September 22 from 9 a.m. to noon
The parade goes through Ala Moana Park, down Kalakaua Avenue to Kapiolani Park
www.alohafestivals.com