Life's a beach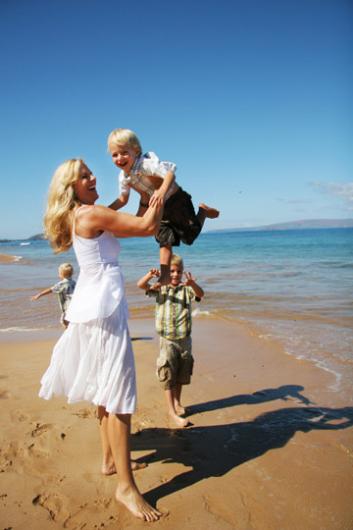 This summer, I took my boys to Texas for three weeks to visit family—and to drive. We drove from the bottom to the top of the state, with five stops in between. It's about 10 hours if you do it nonstop. For us, it was hours of driving with three young boys under 6 in the back of the car. We laughed, played silly games and did all the crazy things you do when you're on the road with kids.
Well, on the Mainland, anyway. We don't get to drive like that on Maui. We get used to our little corner of paradise, and hunker down. Going to "the other side" of the island requires calling friends ahead of time, perhaps planning to stay overnight, filling up the car with gas, stocking up on water, snacks and games.
On Maui, who wants to go through the hassle of a whole hour's drive, when we can just walk down to the beach for the day.
We're happy being home, living across the street from the most beautiful beach on Maui Keawakapu where Wailea meets Kihei. This is the sunny side of the island with an average high of 84 degrees, light trades and not much rain.
We're outdoors all the time and at the beach most days. My husband has rigged a garden wagon so he can tow three kids, two five-gallon buckets of beach toys, two boogie boards, a surfboard, a beach chair, an umbrella and a cooler.
Everyone gets lubed up with 50-SPF sunscreen and dons wide-brimmedhats,rashguardsandswimtrunks,and we're off. The boys (ages 2, 4 and 5) play in the waves, and we all build sandcastles together. I call it my sand therapy.
After traveling the Islands on business in the early '90s, I said that if I ever lived in Hawai'i, I would live on Maui. (Second best to me is Hanalei, Kaua'i, the only other place on Earth I would live.)
"Maui no ka oi": In other words, Maui is the best. South Maui not only has the best big, sandy, swimmable beaches, it also has just the right mix of casual sophistication. Some of the top restaurants are minutes from my house—Joe's in Wailea with celebrity chef Bev Gannon at the helm; oceanfront Ferraro's at the swank Four Seasons Resort
Maui; casual Matteo's for family night out pizza; and Mulligan's when I'm in the mood for a cold Guinness on tap. We experience calm mornings with the sun rising over
Haleakala,casting its warmth on Wailea.There'sabeach path along Wailea running from Keawakapu Beach to the Fairmont Kea Lani. I'll push a double jogging stroller along the ocean, stopping to admire the beauty that I never take for granted. Mornings, the ocean is as smooth as a lake. I can't resist a quick dip after a stroll.
With my work in promotions, I'm often at events and parties in the evenings, again outdoors. Many people visiting will ask me if I ever tire of Island life or if I get Island fever. I never have. We can hop over to Honolulu for the day for a taste of the city and great shopping. Otherwise, I'm happy to give my family a simple life that could only happen here. There is no other place I feel this content.
Don't miss another story from HAWAII Magazine
Sign up for our weekly E-Newsletter today!