L&L creates 3-lb. plate lunch. I eat it.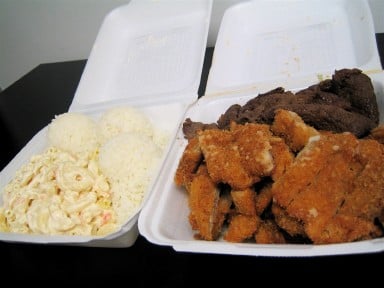 To celebrate its expansion to American Samoa, L&L Hawaiian Barbecue created a 3-lb. plate lunch. Called the Matai Plate (from the Samoan word for "chief"), it contains generous servings of beef and chicken, plus three scoops of rice and two scoops of macaroni salad.
The Matai is not to be taken lightly. When it first went on sale, L&L offered to it free to the first diners who could finish it in 10 minutes. No one could, leading the chain to start touting it as meal for two or three. It costs about $12 or $13, depending on the L&L where you find it.
My coworkers said they'd buy it if I could finish it. I accepted the challenge.
When we finally got our hands on the Matai, it certainly looked the part, so big that it came in two Styrofoam containers. Always sticklers for accuracy, we weighed the plate lunch on a postal scale. Sure enough, it weighed a little over three pounds.


I had a plan of attack in defeating the massive Matai. Consume the proteins first. Save the much more filling starches for after. I would pace myself, not rush. So I ate and ate and ate some more, often to the curious and horrified glances of passing coworkers. By the time I finished an hour later, I felt like doing absolutely nothing. I stayed that way for the rest of the evening.
If you'd like to take a shot at conquering a Matai plate, be warned that they are only offered at select locations. L&L Hawaiian Barbecue has more than 180 locations from Hawaii to New York, but we are not clear which ones offer a Matai plate.
For more information: (972) 459-9420.