Looking for a Don Ho autobiography? Here's a great one… and the only one.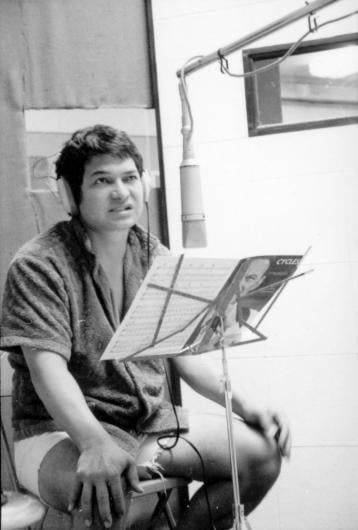 Anna Bric from Australia e-mailed us with a question about "Mr. Hawaii," Don Ho.
I saw Don Ho recently in an episode of "I Dream of Jeanie" and it brought back memories of how talented he was. I would love to read his autobiography and find out more about this fascinating and talented man. Does one exist?
You ask. We answer.
And you're in luck, Anna. A terrific summary of the life and times of the late great Hawaii crooner, Don Ho: My Music, My Life, was published in 2007.
In the spring of that year, Ho met with music writer Jerry Hopkins—who'd compiled noted bios of Jim Morrison (No One Here Gets Out Alive) and Elvis Presley—for a series of interviews with a goal of recording his life story. Over the following weeks of recording what would become Ho's final interviews, Hopkins also chatted with a number of Ho's family members, friends, entertainment peers and business associates for their recollections.
The stories from all sources weaved together so well, Hopkins suggested to Ho a twist for the autobiography—an oral history, with the story of his life linked via recollections from him and other voices. Ho's final interviews for the book were completed just two days before he passed away on April 14, 2007. The book was released in that fall.
Don Ho: My Music, My Life is a great read—a photo-filled, no holds-barred recap of Don Ho's life told in his own colorful way with a story, and in the words of the people who knew him best. It's published by HAWAII Magazine sister company Watermark Publishing, and—in commemoration of his 79th birthday, which would have been today—sale-priced at $20 if you order direct from Watermark.
Click here to order.
Here's an excerpt from the book, with Ho explaining how he ended up recording his most internationally well-known hit "Tiny Bubbles":
"Everything in my life is an accident, including 'Tiny Bubbles.' This song was recorded at the request of (big band leader) Sonny Burke. I called him to come to Hawaii because I wanted to record a song called 'Born Free.' They were playing it on the radio and the war was going on in Vietnam and I thought the message fit. Sometimes I closed my show at Duke Kahanamoku's with it. We got into the recording studio and I couldn't quite make 'Born Free' happen at that recording session and Sonny said, 'Sing this song.' He gave me the words to 'Tiny Bubbles' and played me a tape. All the music tracks and background voices were done on the Mainland. All he needed was my voice. I didn't like the song, but I sang it one time, and I walked out of the studio. A week later it was all over the country."