Lost creators and cast discuss series' final season in Hawaii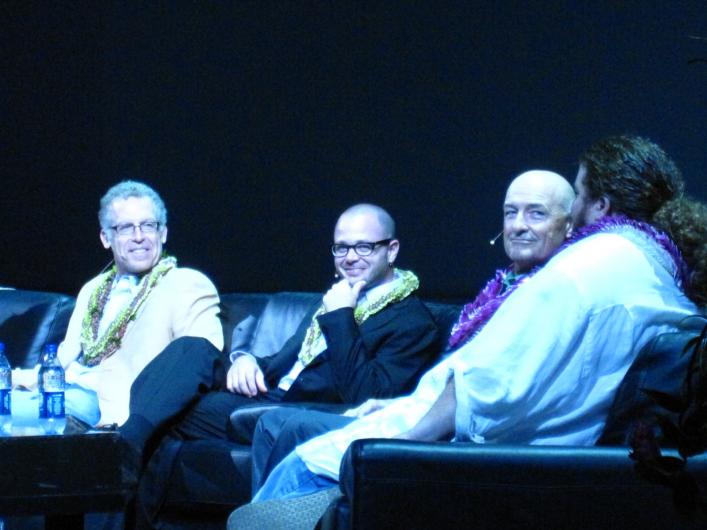 Several hundred fans of the hit ABC TV series Lost gathered in a Waikiki theater on Saturday evening to learn, well, absolutely nothing about the sixth and final season of the mystery drama, currently filming on Oahu.
Not that there was any surprise in that.
The guests of honor at the Hawaii International Film Festival-sponsored "Evening with Damon Lindelof and Carlton Cuse" are well known by the show's rabid worldwide fan base for being unflinchingly protective of Lost secrets. Officially, Lindelof and Cuse are the series' co-creators, longtime showrunners and deciders of Lost past, present and future plot lines. But the duo have also grown as popular with fans as the series' cast thanks to their humorous, crafty storyline-summarizing appearances on countless Lost episode recap shows and five seasons of DVD box set extras.
Joined by cast members Jorge Garcia, Terry O'Quinn, Yunjin Kim and Michael Emerson, as well as producer/director Jack Bender and co-executive producer Jean Higgins, the duo were at their cagey, entertaining best at the 90-minute Q&A session/awards program at the Royal Hawaiian Theater.
The evening program capped a full day of HIFF Lost master class seminars for fans, led by Bender, Higgins and select members of the series production staff. Taken as a whole, however, the night was hit and miss.
After a couple of HIFF honors were handed out—a "Vision in Film Award for Lindelof and Cuse, an inaugural "Mahalo Nui Loa Award" for Bender and Higgins—emcee Brian Lowry, chief television critic for entertainment trade journal Variety, began peppering the guests of honor with questions on series minutiae.
Lowry admitted early on that he was forbidden from asking the co-creators any questions about Lost's upcoming final season. But that still left him with the unenviable task of asking the ideal two dozen or so questions out of hundreds that audience members likely wanted answered about the series' production, history and complex storyline.
In taking on that task, Lowry did OK, mostly sticking to questions about Lost's Hawaii production, cast and crew memories and thoughts on the final season, and exactly who among the crew had knowledge about how the series would end.
Also entertaining: Screenings of Lindelof's and Cuse's three favorite scenes from the last five seasons, with comments and stories on each clip from the duo and cast members.
Guests had paid up to $50 to attend the event, which promised an opportunity for audience members to query Cuse, Lindelof and the cast about the series. Sadly, this proved the most disappointing part of the evening—not for lack of interesting questions, but for a lack of questions, period.
Well into the program, Lowry announced that because of a late start there would only be a brief time available for audience questions. Fans who queued up a dozen deep at two stage-side microphones had no idea how brief that time would actually be: The Q&A session was cut after just four questions. Complaints were audible as hopeful fans in line for the microphone returned dejected to their seats.
The evening ended with a couple of lackluster ABC promos for Lost's upcoming sixth season—airing in early 2010—and fifth season DVD box set—out in December. The cast and crew made a somewhat hasty departure from the Royal Hawaiian Theater soon after.
To it's credit, the audience still ushered them off the stage with hearty applause. But it was disappointing to see what was at times a very entertaining evening for Lost fans end on a down note.
What did we find most interesting out of the evening's commentary?
---
On filming
Lost
in Hawaii despite pressure early on to move the series to cheaper locations elsewhere:
CARLTON CUSE: "It was pretty easy to see by the end of the first season how important shooting the show in Hawaii was to the show, and (how) the other places that were being proposed just didn't even compare. Fortunately, the show had become a success at that point. I think that that helped us a lot in terms of having the leverage to continue to shoot the show here, as well as the incredible cooperation of the city and the state in working with us to make the financial side of the show work out."
On the use of CGI having a significant effect on the production's ability to film in Hawaii:
CUSE: "The advances with computerized visual effects and the ability to do them on a television budget and schedule made it possible for us to shoot the show entirely here. … We've made (Oahu) look like everything from Moscow to Berlin to Iraq. And it was really only the advent of that technology being affordable and doable on the schedule and budget of a television show that has allowed us to do those things, and therefore we were able to take a piece of a building in Honolulu and make it look like Red Square in Moscow. It's been enormously liberating. At this point … in terms of locations, we really feel we have no limitations in terms of what we can do."

On the number of people who currently know how
Lost
will end, and if series co-creator J.J. Abrams is one of those people:
DAMON LINDELOF: "Well, obviously all of the writers know how the show is going to end because we've been talking about it. … We have in depth conversations about the episode that we're breaking. At the end of every season, we have a writers' mini-camp where we talk about what we're going to do in the following season and beyond. Once we secured an end date for the series, everybody who was part of the writing process pretty much had a very strong sense of what that was.
"As far as J.J. goes, he himself has sort of publicly spoken about the fact that he hasn't been creatively involved in the show since the first season. He really enjoys watching it as a fan. So he'll call us the day after an episode airs—he sees it the same time that you do—and basically say, 'Oh my God, that was awesome!' He has expressed an interest and curiosity in how the show is going to end now. And we are internally debating as to whether or not he'll enjoy it more if he sees it on the air or whether we tell him. He's kind of like, 'Tell me! Don't tell me!' But clearly, when we were doing the pilot there were a lot of things that we talked about that may or may not be incorporated in the actual series finale."

On security measures taken to protect Lost plot lines:
CUSE: "When you cast a show you have to send out sides, which are the scenes that actors read to audition. Those have to go out to all the agencies. We never actually send actors the actual scenes they're going to audition with. We write fake scenes that are kind of like the scenes that they're going to do. So some of (the actors) might read a scene between a couple of insurance executives, and then find themselves in the jungle battling a polar bear. But the emotions are the same." (Laughs.)

On life after
Lost
:
LINDELOF: "For us, the show has been sort of an all-consuming endeavor. And that's because that's the way we want it. We love it. It's a full time job. Working with our partners in Hawaii, we spend so much time talking to Jack (Bender) and Jean (Higgins) and all of the actors and all that stuff. The idea of thinking about life after Lost, or life without Lost, is incredibly bittersweet. But at the same time, I think we're all thrilled that it's ending. The fact that the show is now coming to an end (and) we're ending it on our own terms as opposed to the show is being canceled, or went on three or four years after it should have, really generates this tremendous excitement.
"As for what we're going to do next … when Carlton and I go to Comic-Con we actually like to attend other panels. And there was a panel (at the most recent Comic-Con) with (directors) Peter Jackson and James Cameron. James Cameron has basically been working on this movie, Avatar, for the last eight years. … So, essentially, some fan said, 'Mr. Cameron, what are you going to do when you're finally finished with Avatar?' And he said, 'Asking me what I'm going to do after Avatar is sort of like asking a woman if she's going to have any more kids when she's crowning.' (Laughs.) So we kind of feel like we're crowning right now. Don't talk to us about what's next. Let's just deliver the baby, clean it off, show it to you, and then we'll talk strategy."
JORGE GARCIA (Hugo "Hurley" Reyes): "Coming in this season and shooting has been really cool, but kind of feels like your senior year (of high school) where you're really appreciating it. You know the sadness is coming, but you're not there yet. Right now, you're just kind of enjoying everybody and soaking everything in again."
YUNJIN KIM (Sun-Hwa Kwon): "After the show is over, I think I'm going to take a year off and go through all of Lost. I'm going to take a week, not sleep, and just keep watching, watching, watching just to get everything back. And I think it'll set in when that happens."