Loud and Proud, Where and Wear: The Story of the First Aloha Shirt
The iconic symbol of Hawaii has roots that stretch back to the 1930s.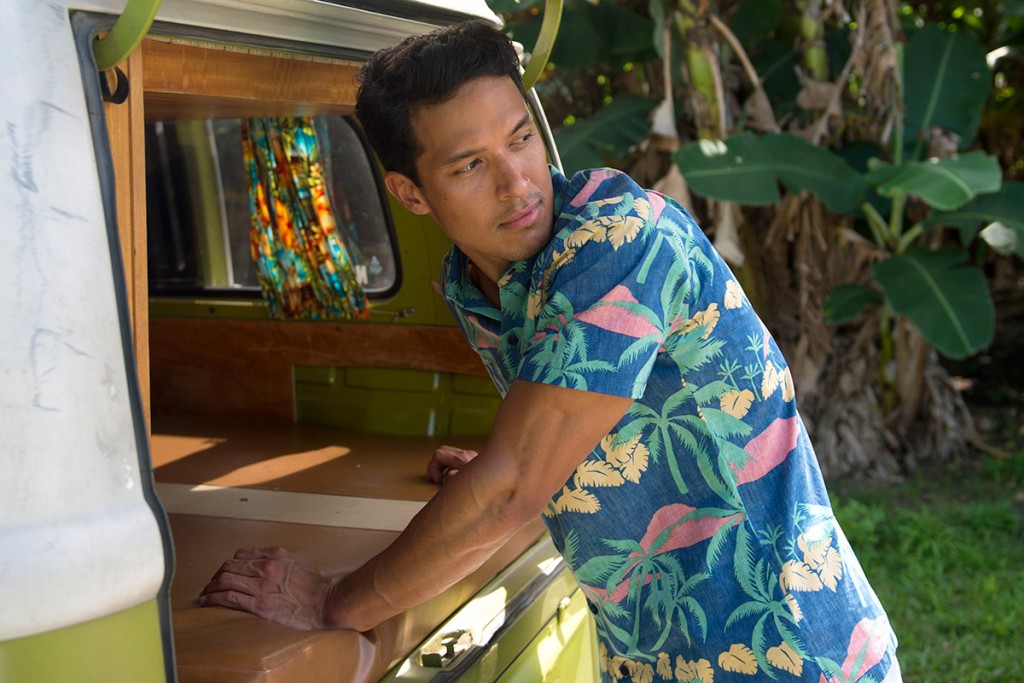 The iconic aloha shirt: Today, you'll see it on top models, brightening up the pages of Vogue, or showing up as playful, vibrant additions in collections from some of the world's most celebrated fashion designers. Like Hawaii itself—the place for which this lively little clothing item has become an indelible, internationally recognized symbol—the aloha shirt has become eponymous with breezy, tropical style, beloved for a chill-meets-fun vibe and irreverent, cheery aesthetic.
As big-time and world-renowned as it is today, however, the aloha shirt boasts some pretty small town—or should we say small "island"?—beginnings. Those beginnings stretch all the way back to 1936 with Kahala Sportswear company co-founder, George Brangier, nine years after he met a certain surfer of the century, Duke Kahanamoku. Kahanamoku ended up teaching Brangier how to bodysurf, and then invited him to come visit Hawaii for himself.
Once Brangier did, he was hooked on the culture, and launched his first men's clothing shop in Honolulu's old Dillingham Building. Teaming up with Nat Norfleet, the two started clothing brand Branfleet, which was later renamed to Kahala Sportswear. It was the beginning of a distinct Hawaii story that would continue for decades to come – and is still going strong in 2018.
After all, "An aloha shirt tells the story of Hawaii," points out Kahala General Manager Jason Morgan. "The aloha shirt is the world's first multicultural garment. It's a bit of the aloha spirit that you can wear, take with you, or give to a friend. It's a sense of place."
Indeed, Brangier and Norfleet crafted their first shirts from old silk kimono fabric from Japan, and sold them alongside coconut milk and pineapple juice at a stand in front of the old Outrigger Canoe Club. As the decades and trends came and went, the Kahala aloha shirts followed suit: mod in the 60s; long, disco-inspired collars in the 70s. The 80s brought pastel- and neon-splashed designs; the 90s saw a toned-down, reverse-print fabric revival. "Hawaii is continuously evolving," says Morgan. "The aloha shirt is no exception. Going through our archives is like stepping through a time machine."
Today, Morgan and the Kahala team take care to stay true to the roots and Hawaii-centric values that started the company, while still keeping things fresh with new, modern artists and prints. The company is still family-owned and most of their pieces are still manufactured right here in Honolulu – a rare occurrence in today's aloha shirt industry. The designs are crafted to reflect the lifestyle and vibrancy of Hawaii by a local, in-house design team, drawing inspiration from mountains, beaches, plants, animals and culture. "We're constantly searching for and refining new techniques and perspectives, to tell a part of the narrative of Hawaii that hasn't been uncovered yet," says Morgan.
Recently, that has meant collaborations with talented, buzzworthy local artists, such as the late John Severson, whose work appeared in a recently released line of collector's edition shirts. In 2019, Kahala will collaborate with vintage-vibing surf artist Nick Kuchar and Pow! Wow! Hawaii co-lead director Kamea Hadar. But, even as the Kahala team is looking ahead, they're also always paying homage to the past, releasing re-imagined Heritage collection prints each season.
"Trends come and go, and right now the aloha shirt category is hot," observes Morgan. "While the visibility certainly helps, Kahala was around long before aloha shirts were in the pages of GQ, Esquire, etc. – and we'll be around long after." It's true that in Hawaii, the shirt is as ubiquitous as the balmy weather and swaying palms. Perhaps part of that is owed to versatility – from chilling at the beach to working it in the board room, they're always appropriate. Or, maybe it's because these shirts do more than just keep off the rain. They tell a lighthearted story about the Hawaii everyone knows and loves.
For his own part, you'll find Morgan rocking his alohas in all manner of ways: Free-flowing, over jeans and Vans, or smartly tucked into chinos and Chukkas. "What's great is how many people are being introduced to aloha shirts for the first time, and they're having fun with it," he says. "After all, that's the point really." It certainly is.