Love Hawaii Regional Cuisine? Here's a great deal from Chef Chai.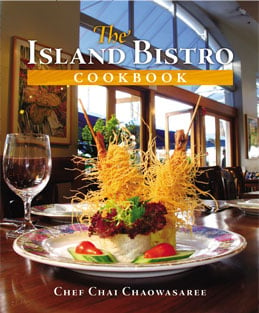 We had such a great response to our article on Thai-Hawaii chef Chai Chaowasaree in the May/June issue of HAWAII Magazine that we thought we'd pass along this little food tip to anyone who is going to be on Oahu in the next few months.
We timed our article with the release of Chai's The Island Bistro Cookbook, by which we were much impressed. (We were right by the way: The book, filled with 90 signature recipes and stunning photography by Honolulu photographer Rae Huo, just won the Hawaii Book Publisher's Ka Palapala Pookela Award for cookbooks.)
Here's the good deal. To celebrate the success of the book, Chai's Island Bistro in Aloha Tower is offering a five-course meal for only $55 a person, all recipes from the book, full of vibrant Hawaii-style flavors.
It gets better: Every party of two or more that orders the meal receives a free copy of The Island Bistro Cookbook—which is selling briskly at $32.50. Want to see the full menu?
Chef Chai's Signature Combination Appetizer Platter
Kataifi & Macadamia Nut-Crusted Jumbo Black Tiger Prawns, Alaskan King Crab Cake and Fresh Ahi Katsu


Fresh Aloun Farms Ewa Sweet Corn Chowder

With Purple Okinawan Sweet Potato

Smoked Duck Breast Carpaccio Salad with Tangerine Vinaigrette

Tear Drop Tomatoes, Lotus Root Chips and Candied Walnuts


Deconstructed Sterling Silver Beef Tenderloin Wellington

Mushroom Foie Gras Puff, Baby Vegetables, Fire-Roasted Chestnut and Taro Stuffing


Creme Brulee Sampler

Thai Tea, Kona Coffee and Tahitian Vanilla Ice Cream
Reading this made us so hungry we're going to go ourselves, and we already have copies of the book. We're going on a night when Chai's Island Bistro has great Hawaiian music.