Mad for Hawaii mango? Check out the annual Mangoes at the Moana fest in Waikiki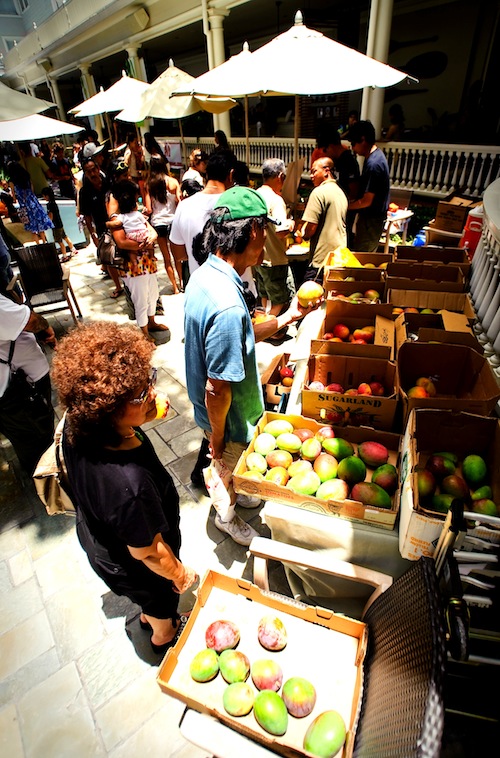 Will Chen's favorite way to eat mangoes is straight up raw.
"That way you truly get to taste the flavors," he says
.
And he should know.
Chen is the chef de cuisine at Beachhouse at the Moana, the fine dining restaurant at the Westin Moana Surfrider Resort & Spa, which hosts the annual Mangoes on the Moana event. The fifth annual edition of the popular fest for fans of Hawaii mango happens Sat., July 13.
This year's Mangoes at the Moana promises a full lineup of activities, including a mango cooking competition with local celebrity chefs, a mango farmers market and a mango cocktail competition with spirit enthusiasts and professional mixologists.
The festival happens from 9 a.m. to 5 p.m., with live entertainment in the Moana Surfrider's Banyan Courtyard for the entire event.
"As it's our fifth anniversary, we are definitely looking to make it the biggest and loudest mango celebration to date," Chen says. "We got great chefs throwing down."
Maui's Chef Sheldon Simeon and Lee Anne Wong, both alumni of Bravo Network's Top Chef fame, will be among the noted chefs participating in this year's festival.
Mangoes have long been a part of Hawaii's culinary scene, and July is the height of mango season in the Islands.

The two major types of mangoes grown in Hawaii are Haden and Pirie. The mild-flavored Haden, which originated from India, arrived in the Islands in 1930 and became the major type of mango cultivated here. The Pirie, which tends to be smaller with a spicier taste, was brought to Hawaii in 1899 by S.M. Damon, who planted a tree in Moanalua Gardens on Oahu.
While Haden and Pirie are the most common mangoes grown in Hawaii, there are hundreds of species of mangoes that have been imported here since the early 1800s. Other common varieties that grow well here include Ah Ping, Fairchild, Gouveia, Harers, Keitt, Momi K, Pope and Rapoza.
Mangoes are prepared in a variety of ways in Hawaii—from pickled mango, sauces and canned and dried mango to juices and jams. Chef Chen's preference? Fresh picked and uncooked.
"There are so many different varieties that all have their own unique flavors," Chen says.
Here are a few Mangoes at the Moana highlights you won't want to miss, all at the Westin Moana Surfrider, July 13:
• Best Mango Recipe Contest and Best Mango Contest: 8-11 a.m., Lani Kai Room
• Mango Farmers Market: 10 a.m.-4 p.m., Banyan Courtyard and Lani Kai Room
• Mango Cocktail Mixdown: 4-5 p.m., Banyan Courtyard
• "Let's Go Mangoes" Social Media Contest: Noon – 4:00 p.m., Banyan Courtyard
• Mango Throw Down: Noon-4 p.m., Banyan Courtyard