Made in Hawaii Festival spotlights island-made, island-grown goods, Aug. 19-21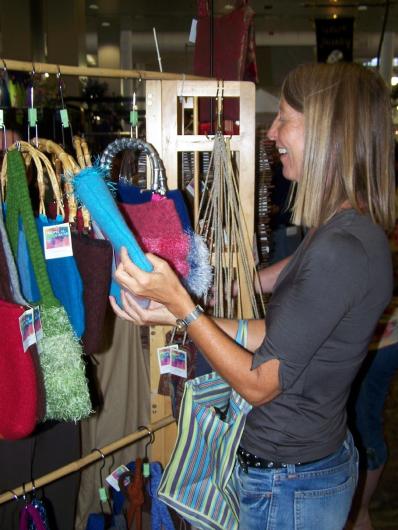 At the Made in Hawaii Festival, set for Aug. 19-21 at the Neal S. Blaisdell Exhibition Arena and Exhibition Hall in Honolulu, the goods are Island-made — no made-elsewhere stickers allowed.
Everything, from trendy tropical clothing, fine art photography and food to crafts, jewelry and home furnishings must meet state law criteria for the "Made in Hawaii" label. If you're on Oahu during the festival weekend, this is the place to go to pick up real-deal Hawaii gifts and souvenirs for family, friends and — why not? — yourself.
Organizers of the festival, now in its 17th year, maintain that even the most intrepid shoppers need a break from cruising more than 430 vendor booths. So, they've assembled a lineup of Na Hoku Hanohano Award-winning musicians, who will perform on an entertainment stage. On another stage, notable chefs from some of Hawaii's favorite, award-winning restaurants cook up their personal specialties while also sharing recipes, tips and techniques for preparing each dish.
This year's festival will feature 64 new exhibitors. Among the new items: (Big Island) hand-screened silk scarves with Hawaiian floral motifs; (Maui) totes and backpacks made from recycled aloha-print fabrics; and (Oahu) travel blankets — complete with matching neck pillows — that fold into bags; and jewelry made from "sunrise" shells" found only on the island's North Shore.
Perennial favorites include: Kula Kala O Kauai, where a master lauhala weaver designs Island patterns for silver and gold bracelets and Maui Pacifica's Christmas ornaments made from sea shells. Oh, and follow your nose to Kanemitsu Bakery's booth, for loaves of taro and guava breads— from a kiawe-fired oven. (Short of trip to the legendary little bakery in Kaunakaki, Molokai, the fest is the only place you can find Kanemitsu treats.)
Here's the festival's musical entertainment lineup for the stage in the Blaisdell Center's Pikake Room:
Fri., Aug. 19 — 11 a.m., Jerry Santos; 1 p.m., Melveen Leed; 3 p.m., Jay Larrin; 5 p.m., Ben and Maila; and 7 p.m., Maunalua (pictured, left).
Sat., Aug. 20 — 11 a.m., Napua Makua; 1 p.m., KumZ, 3 p.m., Hot Club of Hulaville; and 5 p.m. to 8 p.m., Outrigger Hotels & Resorts Kani Ka Pila Talent Search. Five finalists, selected from a preliminary round, will perform in front of the festival's live audience and a panel of judges. The winning performer or group will receive a one-month paid contract to perform on Thursdays during September at the Kani Ka Pila Grille at the Outrigger Reef on the Beach.
Sun., Aug. 21 — 11 a.m., Makena; 1 p.m. Eddie Kamae; and 3 p.m. Danny Couch.
And here's the festival's culinary lineup.

Fri., Aug. 19 — 2 p.m., Jason Takemura, Hukilau Honolulu, Pagoda Floating Restaurant; 4 p.m. Colin Hazama, Kai Market; and 6 p.m., Johan Svensson, BLT Steak .
Sat., Aug. 20 — 12 p.m., Ronnie Nasuti, Tiki's Grill & Bar; 2 p.m., Elmer Guzman, Poke Stop; 4 p.m., John Memering, Cactus; and 6 p.m., Pepe Vega, Just Tacos

Sun., Aug. 21 — 12 p.m., Marc McDowell, Makena Beach & Golf Resort; 2 p.m., Michael Moorhouse, Kahala Hotel & Resort
Made in Hawaii Festival hours: Fri. and Sat., Aug. 19 and 20, 10 a.m. to 9 p.m.; Sun., Aug. 21, 10 a.m. to 5 p.m. For ticket information and additional festival details, click here.