Made-in-Hawaii films to be screened at Hawaii International Film Festival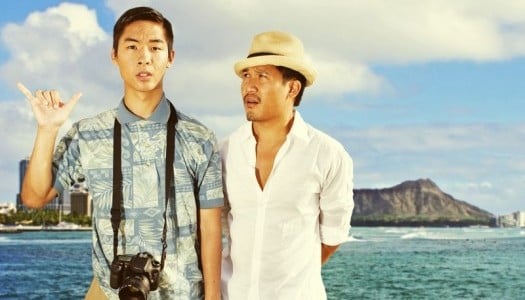 The 32nd annual Hawaii International Film Festival's Made-in-Hawaii section will feature both Hawaii and world premieres of six locally made titles.
In addition, the 11-day event in Honolulu, slated to begin on Thurs., Oct. 11, will screen two Hawaii-based feature nominees (Land of Eb and Seeds of Hope) for the one of the fest's top honors, the Halekulani Golden Orchid Award. In all, the fest will present 219 films from 43 countries.
In a news release issued by nonprofit Hawaii International Film Festival (HIFF), Land of Eb is described as "a promising narrative that paints the heart-warming portrait of a Marshallese man who is diagnosed with an abdominal tumor. He keeps his condition a secret as he struggles to secure his family's future." Seeds of Hope is a documentary probing island sustainability issues tied to food and agricultural industry in Hawaii.
In the HIFF release, the fest's director of programming, Anderson Le, said, "This year's crop of locally made films stands tall, presenting perspectives of Hawaii's unique and multi-faceted culture." Here's the Made-in-Hawaii lineup.
• The Untold Story: Internment of Japanese Americans in Hawaii (documentary) — "Within 48 hours of Japan's attack on Pearl Harbor, Hawaii authorities arrested several hundred local Japanese. Within a few months over 1,800 men and women were arrested, detained and incarcerated in Hawaii. This is the first full-length documentary to chronicle this untold story in Hawaii's history."
• Moving Home: The Legacy of Hall Pai Huhm — This memoir film explores the life of Korean dancer and teacher Halla Pai Huhm, whose life was shaped by the turbulence involving Korea, Japan and Hawaii during the 20th century. "Huhm was a pioneer in staging dances that made Korean identity visible against the backdrop of colonialism, war and immigration, leaving behind a significant legacy in Hawaii."
• Parts of the Same Circle — This drama "strays from the popular questions about the afterlife, focusing instead on the people left behind. "
• Hang Loose (pictured, top) — This comedy is described by HIFF as a "hilarious adventure that emerges from a bachelor party gone wrong."
• Kalo Culture (pictured, bottom) — This documentary follows a family "invested in the traditions of their culture and their preparations for the Haleiwa Taro Festival" on Oahu's North Shore.
• Blues Planet Sounds —This documentary film "delves into today's compelling issues concerning the ocean, including oil spills, overfishing, and marine debris."
For more information about the festival and screenings, click here.