Made with Aloha: 12 Hawaiʻi Gifts and Products Locals and Visitors Will Love
Support local by shopping at these Hawaiʻi businesses.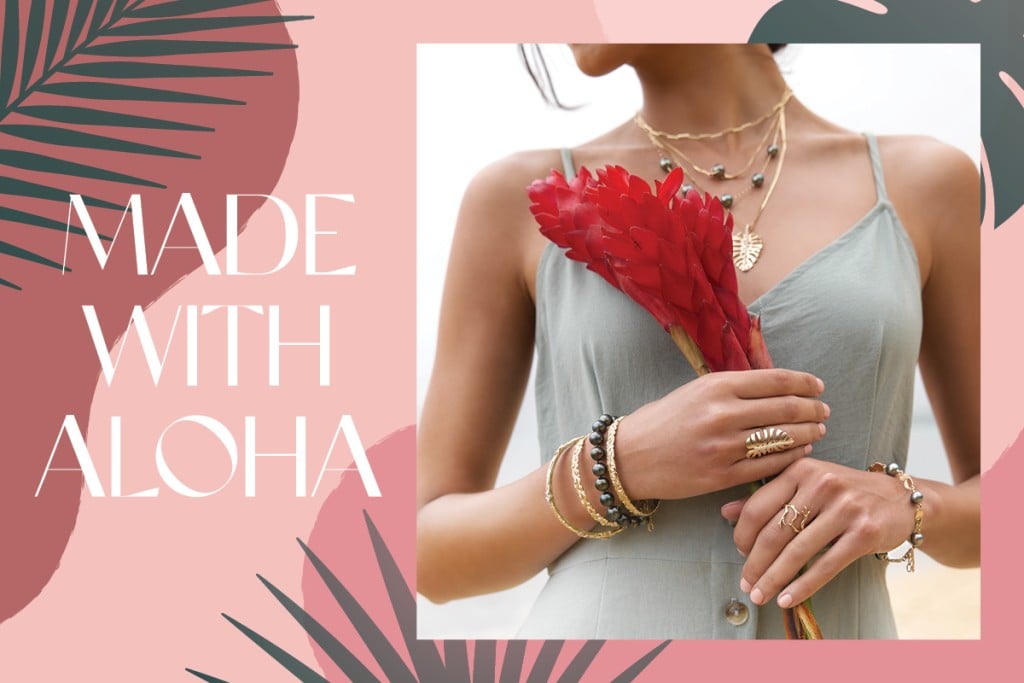 In Hawaiʻi, that gentle feeling of aloha is everything. It's in the way we speak to one another and how kamaʻāina interact with the world. And it also shows itself in the products we make. So whether you're looking for a uniquely Hawaiʻi souvenir or just feel like getting a gift for yourself, here are a few items—from Island-themed holiday ornaments to handcrafted jewelry—worth checking out.
Big Island Candies
Various Gift Sets, starting from $13
Big Island Candies is home to some of the freshest, most high-quality festive gift packs, from signature, dipped shortbreads, delicacies in seasonal flavors, specialty assortments (such as this "Sig Zane for Big Island Candies" box, featuring a selection of confections), plus baskets of best sellers and other holiday must-haves.
For more information, visit bigislandcandies.com.
HI Biz Ornaments
Various Holiday Ornaments, $14 each
HI Biz Ornaments is a collaboration between local businesses, each offering their own limited edition, collectible ornaments. From the original dairy farm co-op to curators of the Maui craft-way-of-life, foodie faves and community mainstays, this ornament collection celebrates some of Hawaiʻi's most cherished homegrown businesses. All ornaments are locally made in Hawaiʻi and are available starting in November through the end of year. After that, they're retired forever.
For more information, visit hibizornaments.com.
Mochi Foods
Mochi Pancake Mix, 8 oz., $5.99
Slightly chewy and divinely fluffy, Mochi Pancakes deliver an award-winning swirl of rich, buttery flavor in every bite. Satisfy your tastebuds by whisking the Mochi Foods Pancake Mix and cooking until golden brown. Try with lilikoʻi (passionfruit) butter, macadamia nuts and syrup for a mouthwatering breakfast.
For more information, visit mochifoods.com.
Nick Kuchar Art & Design Co.
Kona Coast Hawaiʻi Travel Print, $26
On the Kona Coast you can view the slopes of Mauna Kea and Hualālai or turn your eyes makai to the tropical ocean waters. This special part of Hawai'i has provided a place for people to explore and sustain from mauka to makai for generations, and local artist Nick Kuchar has recreated it in his own signature way with this colorful and fun print.
For more information, visit nickkuchar.com.
Bradley & Lily
Vintage Pineapple Aloha Note Card, $3.50 for a single / $14.00 for a 6-pack
Sometimes, a simple pineapple greeting is all you need. This offset-printed folded note card comes with an envelope and is designed and printed in Honolulu on recycled paper.
For more information, visit bradleyandlily.com.
Lahaina Honey Co.
Honey with Honey Dipper, 16 oz., $42
This raw, unfiltered honey is gently collected in a 16 oz jar with a honey dipper lid—made from sturdy and long-lasting stainless steel. If you've never used a honey dipper lid, it's simple. Dip the lid into the honey jar, twist it to keep honey from dripping and then stop twisting to let drip onto toast or tea. No need to worry about the dipper falling in or storing a sticky dipper outside the jar, and the honey stays safely sealed when not in use.
For more information, visit lahainahoneyco.com.
Aloha De Mele
Lei Ers, 8"x10" print in a 11"x14" mat, $45
These digital illustrations hand drawn by JT Ojerio, the artist behind Aloha De Mele, will certainly add pops of color and pizazz to your walls. Inspired by Hawaiʻi's beauty, culture, and people, each art piece was created to make a statement, exude good vibes and spread the aloha spirit. All prints are professionally printed in Honolulu, Hawai'i.
For more information, visit alohademele.com.
Maui Kuʻia Estate
Maui Ku'ia Estate Grown Trio, $50
The signature Maui Kuʻia Estate Grown Trio features award-winning cacao grown on a farm in Lahaina, Maui. Inside you'll find 27 wrapped Neapolitan squares of Hawaiian chocolate. Maui Kuʻia Estate crafts three different types of chocolate from its cacao farm: 70% dark chocolate, 60% dark milk chocolate and 55% milk cappuccino chocolate.
For more information, visit mauichocolate.com.
Maui Pineapple Store
Case of 8 Maui Gold Pineapple, $99.95
Receive Maui Gold Pineapple delivered right to your door. Hand-picked from a local Maui farm and shipped that same day—with 2-day shipping—this succulent product will arrive fresh and ready to eat on your doorstep. Maui Gold Pineapple is prized for its low acidity, superior sweetness and high levels of vitamin C.
For more information, visit mauipineapplestore.com.
Punaluʻu Bake Shop
Black Sand Box, $22.99 plus shipping
The best of all worlds, Punaluʻu Bake Shop sells a combo box that includes three 24 oz. traditional, taro and guava sweet bread loaves. A delicious and colorful compliment for a holiday meal, special dinner or get-together shipped fresh to your door.
For more information, visit bakeshophawaii.com.
Maui Divers Jewelry
Monstera Ring in Gold with Diamonds, $1,295.00
Escape to your own tropical garden with the Monstera Collection by Maui Divers Jewelry. The organic perforations of the 14-karat Monstera leaves will bring sun-dappled sophistication to any ensemble.
For more information, visit mauidivers.com.
Kauaʻi Coffee
Estate Reserve Kauaʻi Blue Mountain, 10 oz bag, $35
A unique, well-balanced coffee with a malty flavor and fruity notes, Kauaʻi Coffee's estate reserve is the ultimate expression of the Garden Isle's unique brand of coffee-smooth, mild and subtle with a pleasantly bright aftertaste.
For more information, visit kauaicoffee.com.