Major collapse at Kilauea volcano vent dims evening glow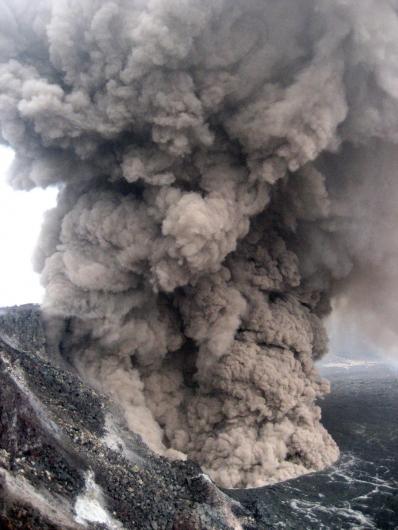 A major collapse at Kilauea volcano's Halemaumau crater summit vent this week has dimmed the luminous evening glow that had attracted thousands of visitors to the site in recent weeks.
Geologists at the Hawaiian Volcano Observatory report that a 1:38 p.m., Tuesday collapse of the vent wall—and a series of smaller collapses in the hours that followed—have choked the Halemaumau crater vent with a significant amount of debris.
The first collapse produced a seismic event equal to a magnitude-2.4 earthquake, shaking the ground at Hawaii Volcanoes National Park's Thomas A. Jaggar Museum overlook, adjacent to HVO. The collapse also produced what geologists described as "a loud booming sound heard across the (Kilauea) caldera area."
An hour after Tuesday's collapse, a portion of the Halemaumau crater floor collapsed into the vent, enlarging the vent rim. By nightfall, the familiar evening glow from the Halemaumau vent was gone.
Late Wednesday afternoon, geologists reported "sporadic gas jetting noises" from the vent. A United States Geological Survey Webcam on the rim of Halemaumau showed a weak glow emanating from the vent last night.
The often voluminous steam and ash plume that has been rising from the vent since March 2008 was described by geologists as smaller and wispier than usual today.
Just last month, Hawaiian Volcano Observatory geologists characterized evening incandescence from the Halemaumau vent as the most luminous they'd seen in months. The increased glow—which boosted evening visitors to the park in recent weeks—was primarily due to a slight dissipation of the plume and shallower than normal depth of lava activity below the crater surface.
The Jaggar museum overlook remains open for visitors 24 hours daily.
HawaiiMagazine.com has reported regularly on lava activity at Kilauea volcano and Hawaii Volcanoes National Park. Click here to catch up with all of our Volcano News posts. Click here to follow our updates on Twitter, and here to follow our updates on Facebook.