Makahiki fest on Oahu's North Shore spotlights Early Hawaiian sporting events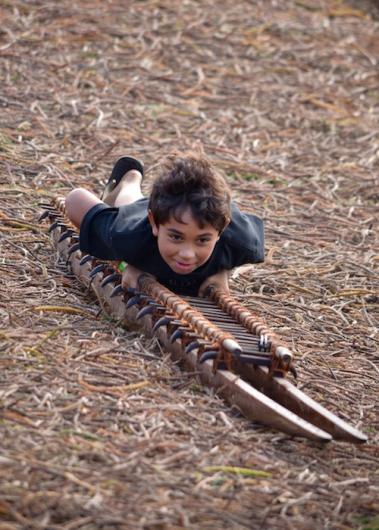 During Makahiki season, Early Hawaiians honored Lono, their god of peace, prosperity, and fertility.
Festivities would get under way with the first sighting of Makalii, the constellation Pleiades, as it rises above the horizon at sunset. And the season would continue while Pleiades was visible in the night sky, often from mid-October through mid-February. During Makahiki, tributes were made, battles halted, and sporting competitions staged.
This weekend, Oahu's Turtle Bay Resort will step back in time to honor the season with its second annual Makahiki Kuilima, a day of festivities showcasing Early Hawaiian sporting events such as hukihuki (tug of war), ulu maika (lawn bowling), uma (arm wrestling), heihei kukini (foot racing), oo ihe (spear throwing) (pictured, below), and hee holua (Hawaiian sledding) (pictured, right). Also in the lineup: artisans and crafters, educational exhibits, cultural demonstrations, island-style eats, and, of course, hula performances.
The free event, set for 8 a.m. to 4 p.m. on Sat., Jan. 12 on the resort's North Shore grounds, is presented by Hawaiian education programs Naepuni Aloha and Ke Kula 'o S.M. Kamakau. Its sponsors include the Hawaii nonprofit Kanalu, Turtle Bay Resort, and other community supporters.
In a news release, Danna Holck, Turtle Bay Resort's vice president and general manager said, "Makahiki was an ancient Hawaiian post-harvest, new-year season." She added, "During Makahiki, war was forbidden, and the Hawaiians spent their time celebrating the harvest, playing games, paying tribute to their chiefs, honoring the god Lono, telling stories, dancing, and feasting. We look forward to starting our new year by sharing the cultural performances and athletics of the day."
For more information about Makahiki Kuilima, click here.