Make a Splash at Duke's OceanFest this Year
Mark your calendars; Waikīkī's biggest ocean festival is back. Here's your primer.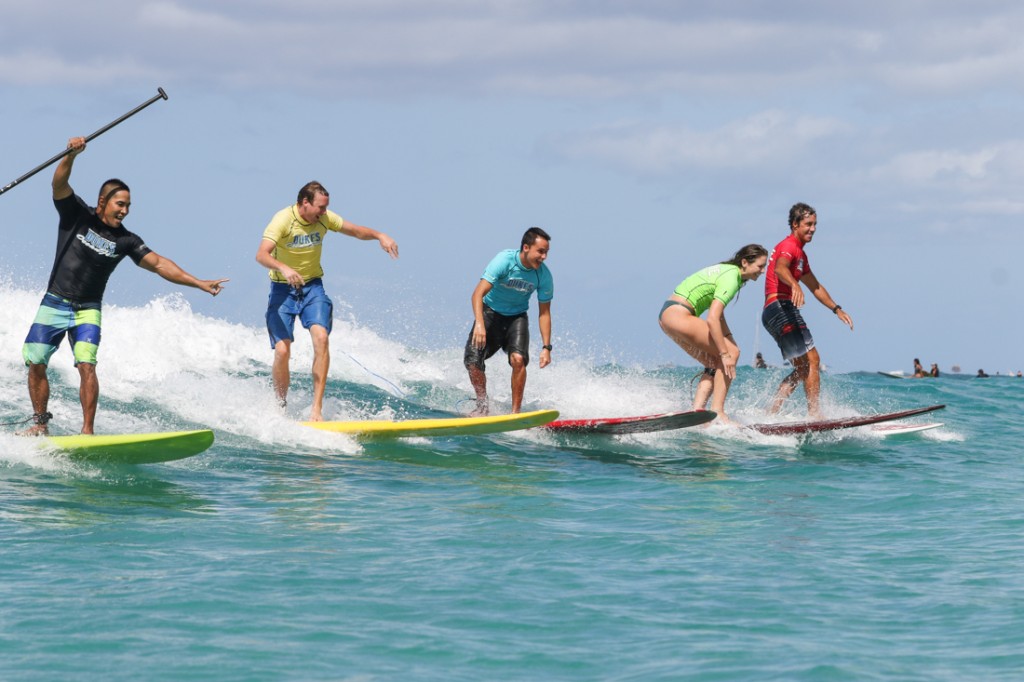 Waikīkī's largest and most unique water sports festival returns this year. Catch menuhune surf competitions, canoe regattas and hydrofoil challenges from Aug. 20-28 all at Duke's OceanFest.
Held on the shores of Waikīkī nearly every year, the festival celebrates the life and athletic legacy of Duke Paoa Kahinu Mokoe Hulikohola Kahanamoku. The week-long series is a highly-anticipated event among ocean athletes and spectators. But like most large events that draw international crowds, the OceanFest was placed on pause the previous two years.
The 2022 festival marks not only its return, but celebrates 20 years of the inaugural event. It began as a one-day celebration in conjunction with the U.S. Postal Service stamp of Kahanamoku in 2002.
Since then, Duke's OceanFest has grown to feature events like Hawaiʻi's only pet surfing competition and an adaptive surf competition for athletes with unique physical abilities. The 2022 festival also falls on Kahanamoku's 132nd birthday. To celebrate, a sunrise ceremony will be held to place lei on his statue on Aug. 24.
Competitions kick off on Aug. 20 with the Red Bull party wave. Two days later on Aug. 22, the opening ceremony takes place with a lei draping of Kahanamoku's statue at Waikīkī Beach, right where the acclaimed athlete grew up and surfed. The celebration also includes live music and hula performances.
Throughout the week, sports enthusiasts should head to Waikīkī to watch exciting competitions like the Pacifico Longboard Classic and a surfboard water polo match.
Commemorating Kahanamoku with an exciting multi-sport festival is only fitting. After all, the three-time Olympic gold medalist swimmer is known for spreading his love of surfing around the world. He is also credited with introducing beach volleyball to players in Southern California where he was a lifeguard. Beyond his athletic achievements, Kahanamoku was also an "Ambassador of Good Will," representing the Hawaiian Islands and helping youth here, too.
While the festival is a celebration of Kahanamoku, it also encourages athletes to push the boundaries across disciplines like Kahanamoku once did. "We're not looking at just the past and history of Duke Kahanamoku but the future of surfing and water sports," says Kelli Bullock Hergert, a board member of Duke's OceanFest. "We're not losing touch with the original mission of Duke's OceanFest, but looking to further the access of these sports to people in the community."
And one of the biggest events for the community is the menuhune surf competition, which encourages and introduces keiki (kids) to the sport of surfing. Along with the menuhune competition, Raising Cane's Going to the Dogs SurFur ComPETition is a spectator favorite.
Hergert is the organizer of the pet surfing competition and says to expect about 25 animals catching waves this year. Like the festival itself, the pet surfing competition has grown immensely since it started in 2015 with three dogs and a pig. The intention behind the event is to celebrate a lifestyle with animals. "It's not just for the photos, notoriety or Instagram post. These are folks in the water with their animals all the time," says Hergert.
And it's a lifestyle the Kahanamokus embodied. "There is black and white film as well as photos of David Kahanamoku and his brothers surfing with their dogs," Hergert says. The Waikīkī's beach boys were also known to surf with their dogs.
Whether you decide to partake in the competition or watch from the beach, the festival is a fun celebration of the legacy of athletes and water sports in the Islands.
For more information about this year's Duke's OceanFest, visit dukesoceanfest.com.