MAMo Native Hawaiian Arts Market at Bishop Museum to feature for-sale works by multiple artists this weekend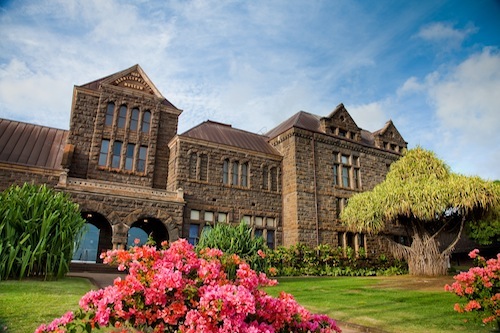 In celebration of the 2014 Maoli Arts Month (MAMo), Bishop Museum will host a two-day Native Hawaiian Arts Market this weekend featuring more than 30 artists, designers, painters, weavers, photographers and carvers demonstrating, displaying and selling their work.
The event happens from 9 a.m. to 5 p.m. on Sat., May 24 and Sun., May 25 throughout the Oahu museum grounds.
The works featured will range from fine arts to contemporary craftwork, including feather work, silk scarves, turned bowls, weaponry and decorated gourds. The market will also feature demonstrations, workshops, arts and crafts for kids, food trucks and live entertainment including:
• Hands-on activities led by cultural practitioners and master artists
• Gallery walks, panel presentations and kid activities
• Musical entertainment, performances and hula
The Native Hawaiian Arts Market is loosely fashioned after two of the most popular and longest running Native Indian arts events in the U.S. and serves as the signature event of the Maoli Arts Month.
Celebrating its ninth year this month, MAMo is a community-based celebration of the depth, breadth and diversity of the Native Hawaiian visual arts community. The market is co-sponsored by PA'I Foundation, a nonprofit that preserves and perpetuates Hawaiian cultural traditions.
This year, MAMo expanded its traditional calendar of Oahu and Big Island events to include Maui.
The Native Hawaiian Arts Market arrives on the heels of a multimillion-dollar renovation to the museum, which was founded in 1889.
In 2005, Bishop Museum embarked on a monumental $24.5 million project to restore both halls. Hawaiian Hall, the museum's first and oldest building, reopened in 2009 after a three-year, $16 million renovation. Polynesian Hall reopened in September with a new name, Pacific Hall, reflecting the museum's new, broader focus for the hall's exhibits, extending beyond Polynesia to explore the cultures of multiple Pacific Islands and their connections.