Maui chef Sheldon Simeon competing in Bravo channel's "Top Chef: Seattle" finale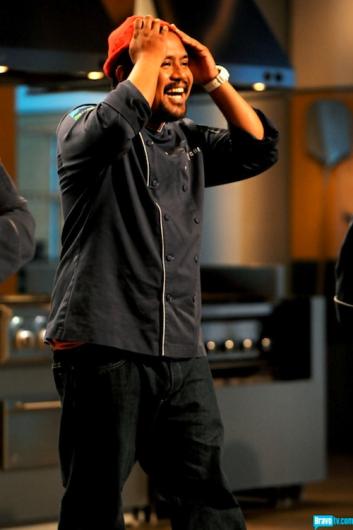 Over the last three months, one of Hawaii's own top chefs, Sheldon Simeon (executive chef at Star Noodle in Lahaina, Maui) has competed with other culinary contenders for the title of "top chef" in the 10th season of the popular Top Chef television show broadcast on the Bravo channel.
Since the first episode of Top Chef: Seattle aired in November, all but the three of the initial field of 21 chefs have been cut from the competition.
Tonight, Simeon's culinary skills and cool-under-pressure temperament will be tested again as he competes against the other two remaining chefs in the first part of a two-part finale. The show will air at 8 p.m. Hawaii time. Click here to check out a short video in which Simeon, while at home in Hawaii, talks briefly about vying for the "top chef" title, which comes with a grand prize of $125,000.
Simeon (pictured, above), who grew up in Hilo on the Big Island, is known is for combining traditional comfort foods tied to multiple cultures in Hawaii, ranging from Portuguese to Filipino communities, and adding creative and delicious twists.
During the weekly shows, Simeon's Islands-inspired cooking has won plenty of rave reviews as well as at least a few less-than-enthusiastic responses from foodie judges including Wolfgang Puck, Tom Coliccio and Emeril Lagasse. 

The 30-year-old chef is two-time James Beard semifinalist — for "Rising Star" and "Best New Restaurant," both in 2011. Also, in 2011, Maui Nokaoi Magazine named him "Chef of the Year." Earlier this year, Food & Wine Magazine named Sheldon "Best New Chef People's Choice" (2012) nominee.


We featured Simeon in HAWAII Magazine's "Guide to Local Eats" (November/December 2011), in which chefs shared their favorite local comfort foods. That story, Simeon discussed one of his go-to dishes: fried rice. Also, in HAWAII Magazine's "Best of Hawaii 2012" (November/December 2012) staff picks singled out Simeon's two restaurants: Star Noodle and Leoda's Kitchen and Pie Shop (Lahaina area). Both won the category titled "Best Excuse to Eat Your Greens." HAWAII Magazine staffers raved about melt-in-your-mouth fried Brussel sprouts and crunchy Hana-grown pohole accented with Maui onion, dried shrimp and seaweed. Leoda's, an everything-from-scratch diner, also won the staff pick for "Best New Restaurant: Maui."


For more information about the Top Chef show, click here.