Maui chefs, farmers and eats spotlighted at 3rd annual Kaanapali Fresh culinary fest this weekend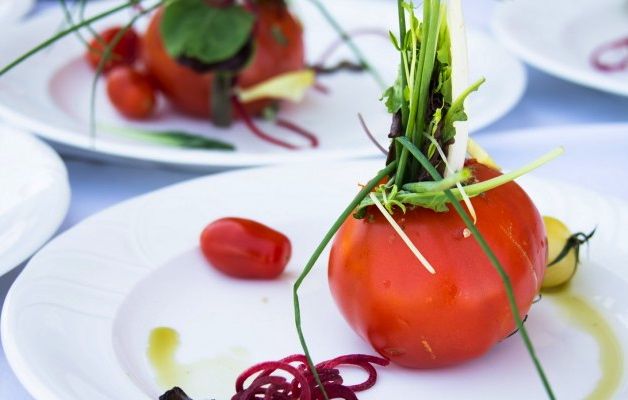 On Maui this weekend? Always on the lookout for great homegrown eats? Look no further.
The third annual Kaanapali Fresh is a three-day culinary event (read: "foodie paradise") celebrating the produce and product of Maui farmers and ranchers, and the inspired cuisine Maui chefs create with that bounty. It all happens this Friday through Sunday (Aug. 29 to 31) at multiple locations within West Maui's Kaanapali Resort Area.
Organized by the Kaanapali Beach Resort Association, Kaanapali Fresh offers a schedule of multiple food-centered daytime and evening activities. The fest's day events offer opportunities to visit local farms on a Maui Farm Tour on Friday, and purchase locally grown produce and locally-made goodies at the Kaanapali Fresh Grown-on-Maui Farmers Market, Saturday morning. The art of crafting specialty cocktails will be the focus of the "Fresh Mixology 101: Kaanapali Craft" seminar, Saturday afternoon.
Kaanapali Fresh's main attractions, however, are its evening tasting galas slated for each night of the fest. Here's this year's schedule:
• "Ahaaina o Kaanapali"
Ahaaina is Hawaiian for "feast." And fest organizers are promising just that via an evening food and cocktail journey following the evolution of dining in Hawaii over three eras: "Old Hawaii," the "Golden Era" and "Modern Hawaii." An opening ceremony will feature the sunset arrival of a canoe flotilla bearing food items from land and ocean. Throughout the evening, attendees will enjoy Hawaiian music, hula and chant from Maui's award-winning entertainer Napua Greig and Halau Na Lei Kaumaka O Uka.
Fri., Aug. 29 from 5:30 to 8:30 p.m. at the Westin Maui Resort & Spa.

Photo: Kaanapali Fresh
• "Kaanapali from Range to Sea" Signature Culinary Event
This grazing dinner was inspired by ahupuaa, the traditional Hawaiian land division system that stretched from mountain to sea. Just as residents of an ahupuaa pooled and shared resources within the land division, Kaanapali chefs aim to combine Maui grown-and-raised ingredients from land and sea to create the evening's mouthwatering menu. Guests will drink and dine to a live soundtrack of Hawaiian music from celebrated Hawaiian trio Kamakakehau Fernandez and popular contemporary Hawaiian music duo HAPA.
Sat., Aug. 30 from 6:30 to 9:30 p.m. at Royal Kaanapali Golf Course's hole no. 3.
• "Kaanapali Kitchen Stadium Under a Maui Moon"
This second annual Kaanapali Fresh dinner is part of the myriad foodie events connected with this year's fourth annual Hawaii Food and Wine Festival, also happening on Hawaii Island and Oahu this week and next week. Six chefs from Maui and the Mainland will craft dishes at a beachfront, open-air "kitchen stadium," presenting a six-course menu highlighting Maui-grown and -raised products.
Sun., Aug. 31 from 6 p.m. to 10 p.m. at the Hyatt Regency Maui Resort & Spa's Napili Gardens.
For detailed menus and a full schedule of events and chefs, visit the Kaanapali Fresh website.

Photo: Kaanapali Fresh
Kaanapali Fresh events are popular. Our advice? Buy your tickets in advance. To buy tickets directly, visit the Kaanapali Fresh website. Partial proceeds from direct bookings will go to the Maui Food Bank.