Maui County Agricultural Festival showcases island's growing farm-to-table movement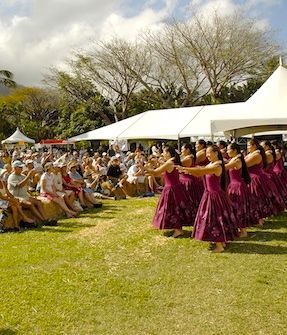 The saying goes, "Know your farmer. Know your food."
If you're on the Valley Isle on this Saturday (April 7), one of the best places to simultaneously accomplish both is the Maui County Agricultural Festival. The free annual fest, held against the majestic backdrop of the West Maui Mountains at Maui Tropical Plantation in Waikapu, offers residents and visitors a stellar showcase of the island's farm-to-table culinary movement and growing popularity of buying local.
Stocked with produce booths, food vendors and cooking demonstrations highlighting Maui's exceptional agricultural bounty, the fest is foodie heaven, as well, drawing more than 7,500 attendees annually. But great noshing is only part of its intentions.
The Maui County Agricultural Festival was launched in 2008 following the shuttering of the popular Upcountry Maui agriculture event fondly known as "The Ulupalakua Thing," which also attracted thousands of attendees. Created in 1992 with similar goals of supporting and raising the profile of local agriculture, The Ulupalakua Thing was hosted annually at Ulupalakua Ranch and Maui's Winery until 2005.
"When The Ulupalakua Thing ended after 13 years, there was no longer a signature agriculture event to bring together the industry and the community," explains Warren Watanabe, executive director of the Maui County Farm Bureau. "The County of Maui and the Ulupalakua event organizers asked us to create a 'replacement' event. We believe the general public needs to learn about the day-to-day workings of the industry and the issues facing agriculture on Maui."
The Maui County Agricultural Festival addresses that goal by offering the community an opportunity to interact directly with farmers, ranchers and growers. Its centerpiece is a huge Grown on Maui farmers' market where the fragrance of tuberose stems and fresh plumeria lei mix with the sweet earthiness of just-picked produce.
The market's 50-plus booths offer everything from humble vegetables such as broccoli, carrots, cabbage and potatoes to world-famous sweet Maui onions, even sweeter Kula strawberries, super-sweet Maui Gold yellow pineapple, gourmet island-grown coffee and taro cultivated in the Native Hawaiian communities of East Maui. Farmer Sylvestre Tumbaga, whose Syl's Produce supplies sweet corn, eggplant, tomatoes and more to farmers' markets and retailers throughout Maui, wouldn't miss it.
"People can see firsthand the quality of our products," says Tumbaga. "They always notice how much better local produce tastes than imported."
Flower growers from all over Upcountry and East Maui are well represented, too, with their showy protea, delicate orchids and other blooms. Also available for sale: pesto, sauces, pickled onions, kim chee, jams, jellies and fruit-infused butters.
Explore the fest grounds long enough and the tantalizing aromas of beef, pork and seafood on the grill and sautéing fresh veggies will lure you to another popular attraction: the Grand Taste Education area. Here, island chefs, farmers and ranchers at more than a dozen booths create dishes that highlight seasonality and the best ways to showcase local ingredients. For $25 you can fill up your plate and vote on which booth's creation gets the coveted "fan favorite" prize. One of this year's most delectable entries is sure to come from Maui private chef, Riko Bartolome, who last year crafted a broccoli chawanmushi (Japanese egg custard) that was crazy good.
"Participating in the festival vividly illustrates the valued relationship between chefs and farmers," says Bartolome who, like most participating chefs at the fest, is as passionate about Maui's farmers and ranchers and their products as he is about the food he prepares. "Truthfully, for me it's simple and self-serving. In order to use local products, there need to be local products. In order for there to be local products, the farmers need to succeed. In order for the farmers to succeed, they need our support.
"I believe it's our responsibility as chefs to build public awareness about our farmers to give them an advantage in the local market and allow them to thrive."
If you go, don't miss the festival's Victory Farm—a living farm where you can see and learn about crops that grow and thrive on Maui. Let the kids get up close and personal with farm animals, ride a horse or plant their own vegetables in handmade planters. Chat with a chef about how to make those Molokai sweet potatoes you just purchased so delicious everyone in the family will clean their plates. Ask the fest's farm doctor about how to get rid of pesky garden pests ruining your tomatoes.
Get to know a farmer. Get to know your food.