Maui Film Festival spotlights rising film stars at "Cinema Under the Stars" in Wailea area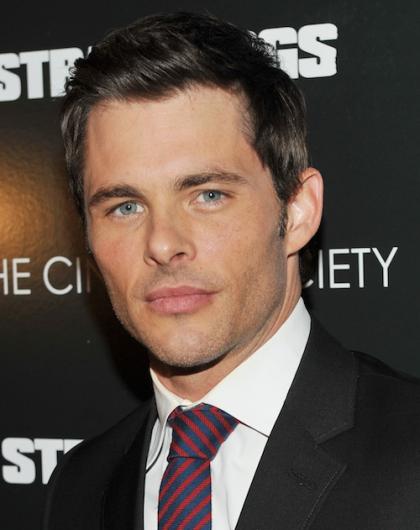 The 13th annual Maui Film Festival is under way at the Wailea Resort and at the Maui Arts & Cultural Center in Kahului.
The five-day event, according to organizers, is packed with more than 40 screenings of "life-affirming" independent films, celebrity appearances and awards honoring actors, such as James Marsden (pictured, right) (27 Dresses) and Elizabeth Banks (People Like Us), and filmmakers, such as Mark Magidson and Ron Frike (SAMSARA), and Tim Bonython (Immersion).
Tonight, Bonython will receive the Beacon Award (for sharing the possibilities of the commitment to live a life inspired by wonder and to bring the inspiration that results to millions through envelope-pushing extreme sports documentaries.) Following the 8 p.m. presentation, there will be a screening of Immersion, directed by Bonython, at the Cinema Under the Stars, on the Wailea Gold & Emerald Golf Course (pictured, below). Six years in the making, Immersion features water-sports athletes taking on some of the biggest waves in the world.
Culinary events tied to the festival include: Taste of Chocolate, 10 p.m. Fri. June 15 at Four Seasons Maui; Taste of Wailea, 4:30 p.m. Sat. June 16 at the David Leadbetter Private Golf Academy at Wailea Gold & Emerald Golf Courses; and Sunday Starry Night MoonDance, 10 p.m. at Mulligan's on the Blue Irish Restaurant and Bar.
Magidson and Frike will be presented with the festival's Soul in Cinema Award, which "honors film artists who, inspired by wonder and fueled by a passionate love of their chosen subject, have chosen to create movies that matter in a world desperately in need of cinema for the soul." In their film SAMSARA, the duo expands on themes they developed in earlier films, BARAKA (1992) and CHRONOS (1985).
Following the presentation, set for 8 p.m. tomorrow, there will be an under-the-stars screening of SAMSARA, which was written and produced by Magidson and directed by Frike. "Neither a traditional documentary nor a travelogue, SAMSARA takes the form of a nonverbal, guided meditation. Through powerful images, the film illuminates the links between humanity and the rest of nature, showing how our life cycle mirrors the rhythm of the planet." For more information about the film, click here.
Marsden will receive the Nova Award (for performances consistently infused with insight) and Banks will get the Navigator Award (for carving a path of distinction without sacrificing their fundamental commitment to excellence) during 8 p.m. presentations set for Saturday.
For a complete list of 2011 Maui Film festival screenings, details about related events and ticket information, click here.