Maui locations, Hawaii chefs spotlighted in two-part season finale of "Top Chef"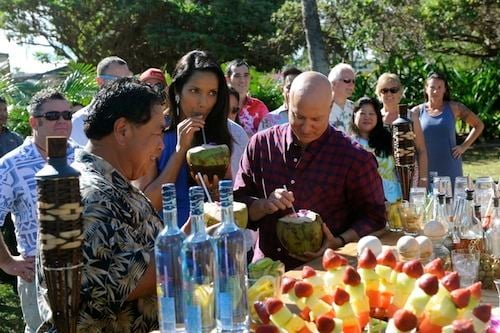 A year ago, a humble, personable and incredibly creative Big Island born-and-raised chef from Maui advanced to the tier of top three finalists on Bravo TV's hit culinary competition series Top Chef.
That chef, Sheldon Simeon, recently opened a new Maui restaurant, Migrant, featuring his inspired, modern takes on multicultural Hawaii comfort food dishes.
Tonight, the top three "cheftestant" finalists of Top Chef's current season (and one returning "Last Chance Kitchen" winner) will go cleaver-to-cleaver on Simeon's home turf in the first episode of a two-part season finale. The finale's second-half airs Feb. 5.
The season's final three competitors are Shirley Chung of Las Vegas, Nev., Nicholas Emi of Philadelphia, Pa. and Nina Compton of Saint Lucia.
Filming of both episodes happened last October, largely at the recently-opened, modernly posh Andaz Maui at Wailea resort, with a guest judging panel including acclaimed Hawaii chefs Sam Choy and Peter Merriman, along with series hosts Padma Lakshmi and Tom Colicchio. Also on the judging panel: Food & Wine Magazine culinary expert Gail Simmons and celebrity chef Emeril Lagasse.
Among the Maui sites selected for Top Chef filming and challenges:
• The Andaz Maui provides the location for Top Chef's online companion series Last Chance Kitchen, where an eliminated chef gets a chance at returning to competition. The featured ingredient? Spam.
• The resort's signature restaurant Kaana Kitchen and Gannon's, one of Hawaii chef Bev Gannon's three Maui restaurants, host final challenges.
• The oceanfront Merriman's Kapalua is the location for an elimination challenge.

Maui food and spirit producers providing ingredients for challenges included Kumu Farms, Surfing Goat Dairy, Maui Gold Pineapple, Maui Brewing Co. and Ocean Vodka.
"Everyone worked hard devoting tremendous hours and throughout the process, we learned about the inner workings of network productions," says Kelii Brown, director of public relations and promotions for the Maui Visitors and Convention Bureau. "We established solid professional relationships, made new friends, and will be able to raise awareness of Maui. Viewers will capture a glimpse of our people, history, culture, food, and other offerings that make our island home a highly desirable travel destination."
The current episodes mark the second time Bravo selected Hawaii as a location for its Top Chef season finale. The series filmed its second-season finale on the Big Island in 2006.