Maui Onion Festival on island's west side salutes bulb famous for sweet, crunchy bite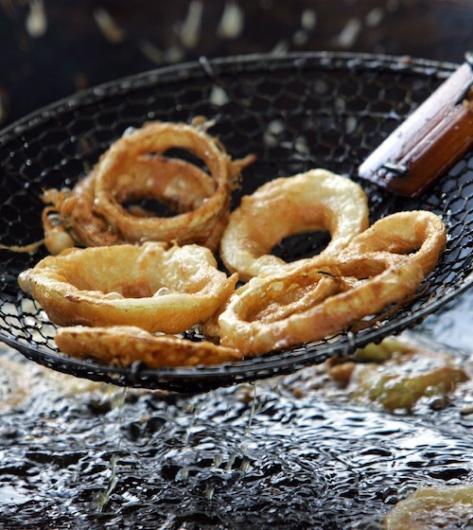 At the 24th annual Maui Onion Festival, slated for this weekend, fans of the sweet Maui Kula onion will salute the famous bulb with recipe contests, onion-eating contests, and food booths packed with plenty of tempting oniony eats.
Among the Hawaii celebrity chefs offering culinary demonstrations — and competing for "Best Maui Onion Recipe" honors is Sheldon Simeon, executive chef at Star Noodle in Lahaina, Maui and a recent contender on the 10th season of the popular Top Chef television show. Simeon finished in third-place in the season's finale. Plus, the Big Island native won the vote for the season's "fan favorite."
In past years, Maui Onion fest attendees have gobbled up more than 1,000 pounds of fried, grilled and otherwise prepped Maui Kula onions, which are known for a mild, crunchy bite and rated among the sweetest bulbs in the world.
Staged at Lahaina's Whalers Village in West Maui, the fest —set to get under way with a welcome at 9:45 a.m. and wrap up at about 7 p.m. on Sat., May 4 — will also feature Tahitian and Polynesian dance performances as well as live music, with the lineup ranging from jazz to island-vibe tunes.
Celebrity chef cooking demonstrations will start with Kevin Hanney (12th Ave. Grill and SALT restaurants) at 10 a.m.; Chris Kulis (Capische), 10:45 a.m.; James McDonald (pictured, left) (Aina Gourmet Market, I'O Restaurant, and Feast at Lele); Jojo Vasquez (The Plantation House), 12:15 p.m.; Sheldon Simeon (Star Noodle), 1 p.m.; and Nick Mastrascusa (Four Seasons Resort Hualalai, Beach Tree and 'Ulu), 1:45 p.m.
At 4:30 p.m., all six chefs will assemble on the festival's center stage to compete for the title of "Best Maui Onion Recipe." Two rounds of raw-onion eating competition will precede the contest. The keiki (kids) division set to begin at 3:30 p.m. and the adult division, 4 p.m.
An annual ticketed pre-event onion pairing dinner is set for tomorrow (May 3) at Hula Grill Kaanapali. The three-course meal will feature Maui Kula onion, of course, paired with beer. For ticket information, call (808) 667-6636. For a complete Maui Onion Festival schedule, click here.