Maui resorts team up to stage inaugural Wailea Wine & Food Festival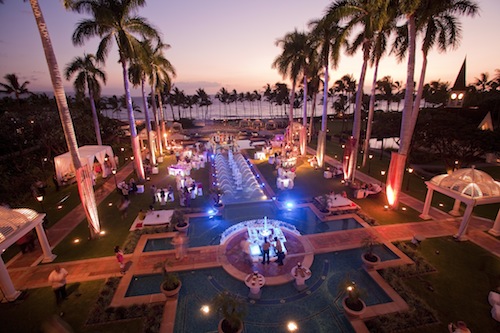 Maui's Wailea Resort Association is gearing up for its inaugural Wailea Wine & Food Festival, which gets under way on Thurs. Dec. 6.
The four-day fest will take place at the Four Seasons Resort Maui, Fairmont Kea Lani, Wailea Beach Marriott Resort, and the Grand Wailea. Each will showcase award-winning cuisine created by Wailea Resort chefs paired with 65 wineries from around the world and eight attending master sommeliers. Fred Dame, president of the Court of Master Sommeliers, will serve as the fest's host.
The fest's main attraction, a culinary extravaganza dubbed DaVine Experience, is slated for Sat., Dec. 8 at the Grand Wailea Resort's reflecting pools (pictured, above). The evening event will feature live Hawaii music, hundreds of wines and food from several Wailea restaurants.
The fest's "wine encounters," at which participants will sample vino while learning about the latest trends in wine and food, include: Pinot Passion, Three Decades of Cabernet, Escape To Italy in Eight Glasses, and Wine & Cheese — The Perfect Pairing.
Among the featured chefs are four of the founding members of the Hawaii Regional Cuisine movement: Mark Ellman (chef/owner, Mala Wailea), Bev Gannon chef/owner, A Pacific View), Peter Merriman (chef/owner, Monkeypod Kitchen) and Alan Wong (executive chef, AMASIA).
For more information about tickets and additional fest events, click here.