Maui Surfer Girls Knows How to Make Surfing Fun for Everyone
With small class sizes and experienced instructors, this Maui surf school will get you standing in no time.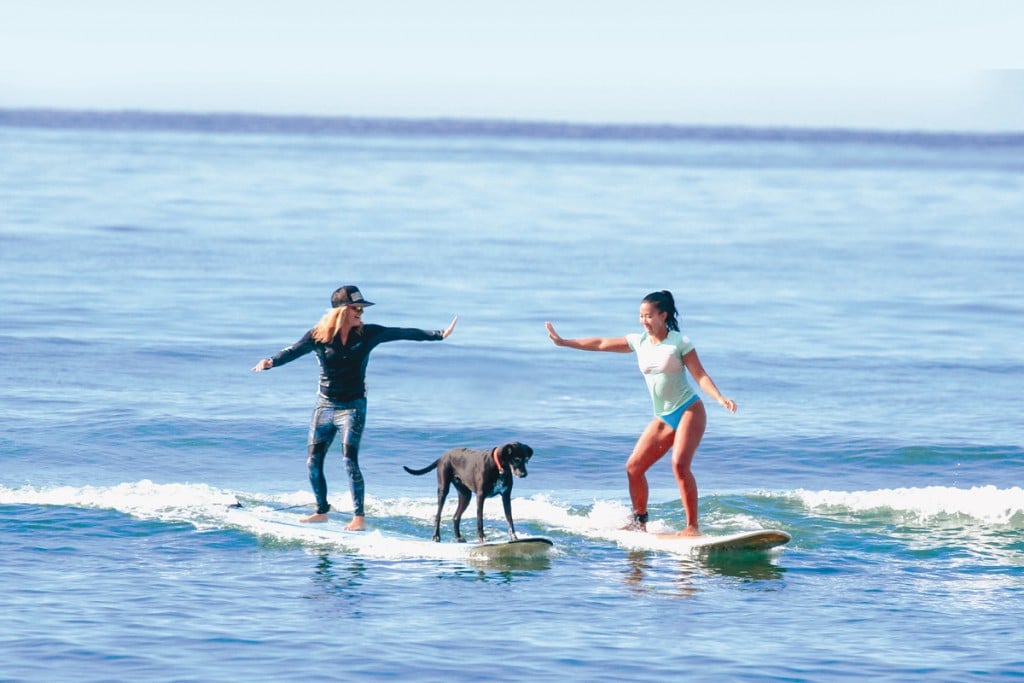 "Paddle, paddle, paddle!" Dustin Tester shouts to Elena, who digs her hands swiftly into the warm Maui waters.
With a gentle push from Tester, the board Elena is lying atop gets picked up by the oncoming wave's momentum, and now she's coasting. Slow, but steady to her feet, Elena stands on her large, foam surfboard— and just like that she's surfing her first wave. It's a feeling of flight and weightlessness I remember fondly from my childhood when I first learned to surf. Paddling back out, I see the satisfied look on Elena's face, a look I've seen time and time again from beginners. She's got the surfing bug.
As blonde as she is tanned, and with a smile so sunny it'll make you squint, Tester is the Maui born-and-raised surfer who started Maui Surfer Girls, a surf camp aimed at empowering young girls and women, in 2001. "I feel like I have an 18-year-old child," Tester remarked earlier about her company, sitting on a small table at Ukumehame Beach Park. Along with the camps, Maui Surfer Girls also offers year-round surf lessons at Ukumehame, known by local surfers as Thousand Peaks for its large swath of waves to surf.
"Girls come in from all over the country, and we house them, feed them, provide all the gear and coaching. We take them ziplining and go on all kinds of adventures," Tester says to me on our way down to the beach for the surf lesson.
Our class consists of myself, mother-daughter duo Paige and Gretta, and Elena (HAWAI'I Magazine's art director), who I brought to get a beginner's perspective on the surf lessons. "We have a 4-to-1 student to instructor class ratio, and a lot of the time students get 2-to-1 on a group class, if we're slow," Tester says. Compared to the often jam-packed classes you'll see at Waikiki, this group size feels intimate and relaxed. Drawing waves in the sand underneath one of the shady canopies spread along Ukumehame Beach Park's long stretch of coastline, Tester explains to our group where to paddle out and what spots to avoid. Any trepidation my first-time surfing classmates might have been feeling soon vanishes once Tester gives her well-rehearsed water safety speech before we enter the ocean.
Paige is up on a wave now and we're all hooting and hollering. She travels quite the distance before sitting back down on her board, dragging her feet in the water to slow herself and paddling back to the group, just how Tester taught her. Tester calls Gretta over from the channel and preps her on catching a wave, working on her form and reminding her to only pop up when the board feels stable. Tester's as enthusiastic as her student is, and her stoke (surf slang for excitement) for teaching is as clear as the Maui waters I'm paddling through.
"I did my senior project using outdoor education as a tool to empower and give self-confidence to girls, and I just thought, 'I want to take these concepts to surfing,'" Tester says. "It's been amazing to watch the camp grow and to do what I love."
I watch a few of the other Maui Surfer Girls instructors out with their own classes. Sharky, the company's only male instructor, entertains a younger student by rubbing his hand on his foam surfboard like a DJ, making squeaking noises. Kiki, a petite Brazilian with toned back and shoulder muscles sculpted by countless hours of surfing, is busy demonstrating to one of her students proper paddling technique.
During this lull between sets, I take in the wild beauty of Maui, with the occasional whale breaching makai (toward the ocean) and the Puu Kukui mountain range mauka (inland). Suddenly, a wave appears and Sharky pushes his student into it. Kiki then paddles into the same wave to continue giving the beginner instructions midride. In my years of surfing, I've never seen this sort of tandem coaching before, with two instructors working so effortlessly together to instruct a single student, and Tester attributes this synergy to the fact that most of the instructors on staff have been with the company for many years, working and growing with one another as surfers and teachers.
After two wave-filled hours, it's time to go in and, to my surprise, Elena paddles into her own wave, catching it without the assistance of Tester and rides it to shore. Back on the beach, the students and instructors talk to each other, and I remember what Tester had told me out in the water. "It's a community we've developed, an ohana—a surfing family." On the long Jeep ride back to our hotel, I ask Elena if she'd want to do it again. "One hundred percent," she says, with a post-surf smile still snug on her face.
Maui Surfer Girls 
For surf camp or lesson reservations, call (808) 201-6109, or visit mauisurfergirls.com. Lessons are at Ukumehame Beach Park, Mile Marker 12 on Highway 30.