Maui surfers open Paia Bowls, a new acai bowl cafe on the north shore
Brothers Ian and Luke Walsh opened the restaurant on Maui in May.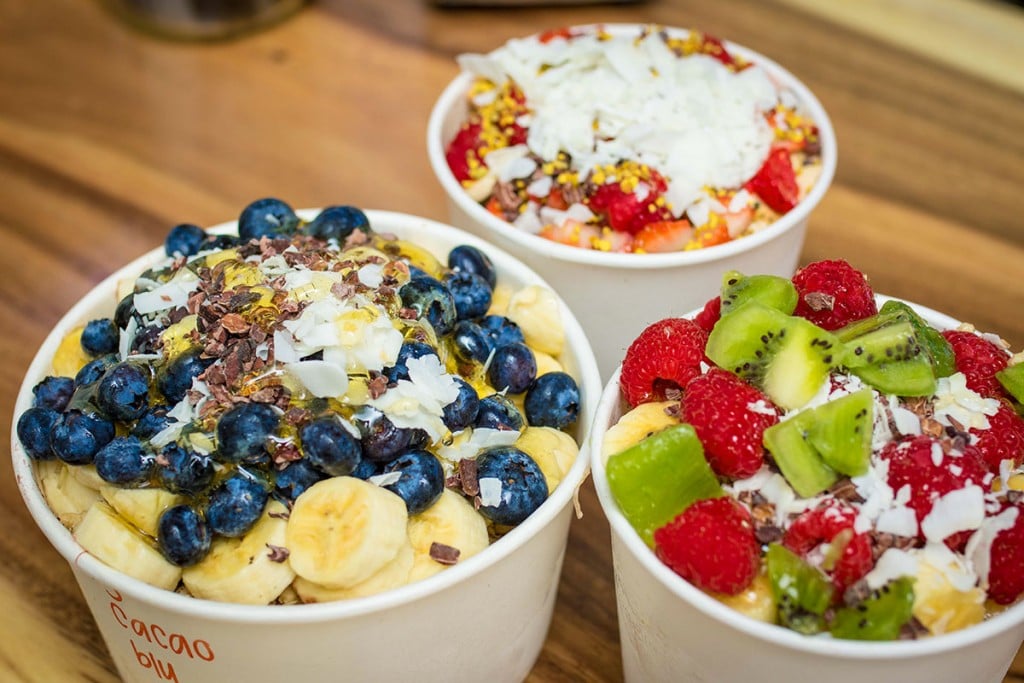 There aren't very many places in the world where you can order a cup of locally grown coffee while listening to the sound of crashing surf at the base of a 10,000-foot volcano.
That's the scene you'll find, however, on the deck of Paia Bowls, a popular hideaway that specializes in coffee, smoothies and acai bowls. Opened by Luke and Ian Walsh—two Maui-grown brothers, big-wave surfers, and now, restaurant partners—Paia Bowls is a shaded sanctuary to relax, unwind, and catch up with friends in Maui's happiest beach town.
"Paia is an active place," says Luke. "You have surfers, paddleboarders, windsurfers, kiters, beach runners, lifeguards … whatever you can think of that revolves around the beach." The smoothies and bowls are a fit with that lifestyle, and Luke says the restaurant is "a great atmosphere for people looking for that light meal that will give them natural energy until their next active activity."
A lot of that healthy energy boost comes from using healthy ingredients, like hemp granola and raw coconut flakes, or extras like bee pollen, maca powder, papaya, chia seeds, or kale. Purple acai puree forms the basis of all the bowls, which are also topped with strawberries, bananas, blueberries, kiwi or honey.
The restaurant itself is relatively small—just a takeout window, an outdoor deck, five tables and eight barstools—but the splash it's made in the North Shore community is as large as the monster waves the brothers have famously ridden offshore. Through support of local paddle races and keiki surf competitions, Paia Bowls has quickly gained a loyal, local following, and has become a spot that visitors purposely take the time to seek out.
While some might consider the food "new age," Paia Bowls is also a bit "old school," since they're based toward the back of a wooden building that's nearly 100 years old.
"We're staying true to our plantation roots," says Luke of the humble vibe. Paia, after all, was built on sugar (their father worked for the sugar company), and the old mill (which is now defunct) still looms at the edge of town.
"Ian and I grew up down the road," says Luke. "We always thought of doing something like this right here in our hometown."
Despite that love for their north shore home, Ian's job as a pro surfer takes him traveling around the globe, and Luke spent six years in California at jobs with Oakley and Red Bull.
"It was time to come home," says Luke of the decision to open up the restaurant. "We've created something the community really enjoys, and if we closed up tomorrow, I think a lot of locals would definitely be pretty bummed."
Open daily 7:30 a.m. to 6 p.m. 43 Hana Hwy., Paia, (808) 214-6504, paiabowls.com.