Maui Whale Festival "World Whale Day" parade and events set for this weekend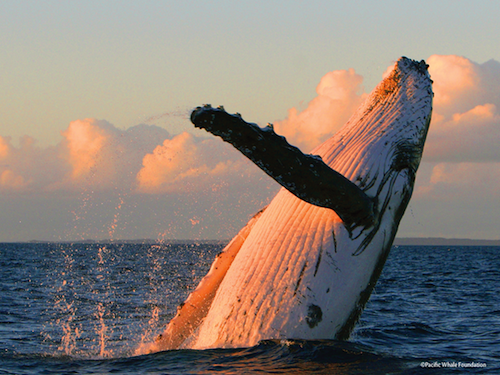 The Maui Whale Festival happens each year during the peak of humpback whale-watching season in Hawaii, between February and April. But this Saturday, the fest's event and activity schedule goes into full swing with Maui's own celebration of World Whale Day.
The fest's events and activities are designed to raise awareness of the 12,000 humpback whales that annually migrate to the warm waters of the Hawaiian Islands from the North Pacific each winter. Presented by the nonprofit Pacific Whale Foundation, the fest features more than a dozen signature events, free exhibits and talks over its three months. World Whale Day is just its biggest day of celebrating.
"It's a magical time of the year when you can hear whales singing when you snorkel or dive in the ocean, and you can see whales in almost every direction you look at sea," said Greg Kaufman, president and founder of the Pacific Whale Foundation, in a news release. "There's so much to celebrate, especially the fact that this population of whales is making a very successful comeback from the brink of extinction. The Maui Whale Festival offers many ways to participate in learning about and celebrating the presence of these remarkable animals."

Saturday's popular World Whale Day celebration happens at Kihei's Kalama Park. The daylong schedule begins with the annual Maui Parade of Whales, followed by a keiki (kids) carnival, the Made-on-Maui Artisans Fair and a meet-and-greet with noted marine artist Robert Lyn Nelson. More than 25,000 residents and visitors are expected for World Whale Day events in Kihei. Attendance is free.
Fleetwood Mac co-founder, drummer and Maui resident Mick Fleetwood (right) will serve as grand marshal of the Parade of Whales and perform live with Maui musicians R.E. Metoyer Blues Rock & Soul Revue. The parade begins at 9 a.m. at the intersection of Alaniu Kealii Drive and continues north on Kihei main drag South Kihei Road to Waimahaihai Street.
Hawaii's 2013-14 whale-watching season officially started last October with the first sighting of a humpback whale in South Maui waters near Molokini islet.