Maui Whale Fest's "World Whale Day" parade, celebration slated for this weekend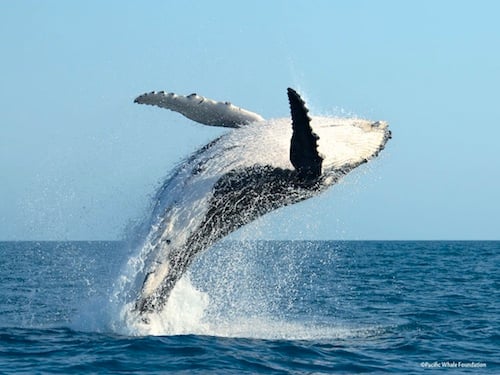 World Whale Day, the biggest event of the six-month 2011- 2012 Maui Whale Festival, is slated for Sat., Feb. 18 in Kihei.

The daylong celebration will begin with Maui's Parade of Whales, along South Kihei Road, from 9 a.m, to 10 a.m. It will be followed by a free celebration at oceanside Kalama Park. (Last year's World Whale Day attracted an estimated 17,000 attendees.)
The live entertainment will get under way at 10 a.m. in the park and continue until 8 p.m. The lineup of Hawaii performers includes: the duo Hapa, singer-songwriter John Cruz, Willie K, Lukas Nelson & Promise of the Real, Anuhea, Marty Dread and Nuff Sedd, with sounds ranging from ska to rock to R&B. Also, there will be a hula performance presented by Manutea Nui E.
Also, World Whale Day will feature information-packed booths manned by local groups and government agencies working to protect Maui's environment. Other highlights: a "Made on Maui" fair spotlighting local artisans; and booths feauring area restaurants and food purveyors. For children, there will be a "Keiki Carnival," complete with ocean-themed games organized by the Pacific Whale Foundation's Education Department, and a performance by singer/songwriter Uncle Wayne Watkins.
World Whale Day is presented by the nonprofit Pacific Whale Foundation, with support from Hawai'i Tourism Authority, County of Maui Office of Economic Development, Expedia Local Expert and the County of Maui Department of Parks and Recreation.
On Sat., Feb. 25, from 8:30 a.m. to 11:30 a.m., Pacific Whale Foundation will conduct its Great Maui Whale Count. Visitors and residents are invited to volunteer as whale counters at sites along Maui's south and west shores. Each station will be staffed by a Pacific Whale Foundation researcher or staff person who will provide all of training as well as share whale research information. There's no cost to participate. For more information about volunteering for the count, send email to Pacific Whale Foundation's Chief Scientist, Daniela Maldini, at Daniela@pacificwhale.org.
Scientists believe there are 20,000 humpback whales in the North Pacific. An estimated 12,000 swim to Hawaii's waters to mate and nurse their young, typically between September and March. In recent years, annual counts have tracked a rise in the humpback whale population visiting the Hawaiian Island Humpback Whale National Marine Sanctuary, which lies within the shallow (less than 600 feet) waters surrounding the main Hawaiian Islands. For additional information about the sanctuary, click here.