Maui's Garden of Eden: A Tropical Rest Stop on the Road to Hana
This tropical stop at the start of the Road to Hana will put you in the mood for the wild journey before you.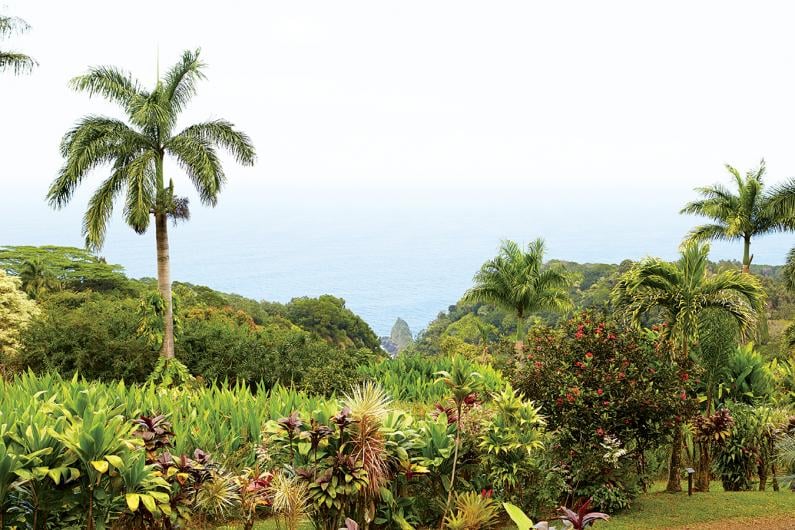 In the beginning, there's a garden. But for those embarking on the Islands' most celebrated road trip, like so much of the sprawling vegetation along and up East Maui's mountainsides, it's easy to cruise right past without proper notice.
Just 15 minutes into what's projected to be a two-and-a-half hour escapade to Kipahulu, I can already attest to this. Bamboo blurs into ferns into fruit trees in between flashes of Pacific Ocean blue into more bamboo, but these are all just guesses, anyway. I don't exactly have the ability to scrutinize every leaf along the way, or the luxury even to let some of it slip outside my peripheral vision: I'm the driver.
Because of this daunting task, my mind has already become clouded with a domineering sense of purpose, and that's to get our editor-in-chief Christine Hitt, art director Cody Kawamoto and myself to Hana as quickly (albeit as safely) as possible. Which is why, when they suggest taking a fairly early break, to check out the Garden of Eden Arboretum and Botanical Garden between mile markers 10 and 11, just as we're beginning to hit the highway's 600-some infamous curves and 50-odd single-lane bridges, the sound I secretly hear the brakes of our tiny rental car make as I pull over to the roadside is, "But, we're just getting started … "
As we slow to the gate, a young woman sits ready at the booth, a large-scale map perched on her lap showing an illustrated bird's-eye view of what vast Edenic surroundings await. Already the air smells different, more fragrant. She eases into her presentation about the arboretum, a seasoned introduction you can tell she's given many times to many people like us before. Her voice is relaxed and soothing even as she glosses over the garden's most impressive features: 26 lush acres, more than 700 species of plant life, the most varied collection of ti plants across the state, a coastal view of the opening scene to "Jurassic Park," and a newly built overlook onto a waterfall. At $15 ($10 with a Hawai'i I.D.) per person, not car, the entrance fee initially sounds steep, but we remind ourselves we didn't drive all the way from our hotel in Kapalua to stick to the rivers and the lakes that we're used to on our home island of O'ahu. We want to see what the Road to Hana has to offer. We pay the entry price.
First opened in 1996, the arboretum celebrates its 20th anniversary this year. Standing on a nicely manicured hill at the center of the Garden of Eden, surveying the provided map of the arboretum in my hands, I'm reminded of America's popular theme parks. Each section is divided into whimsical little sections to help you plot your next move. Do we wander through a bamboo alley to a 100-year-old mango tree? Look for the albizia tree that leads the way to a plot called The Enchanted Forest? Or do we meander down to the bird-feeding area where a creek empties into a duck pond that also welcomes flocks of peacocks?
Imaginations start to roam, considering which nature trail to take first. It's just after 9 a.m. and my hesitation about making a stop here notwithstanding, I'll admit it feels good to stretch my legs, to not have my spine pressed up against a leather seat. The pathways are level and well maintained. While I imagine comfortable walking shoes are encouraged, this is probably one of the only activities along the Road to Hana where you can wear slippers and survive.
We walk down toward the furthest edges of the arboretum and the overlooks—quaint wooden houses enclosed with ohia lehua trees—to glimpse Upper and Lower Puohokamoa Falls, the latter of which cascades over a 200-foot cliff below the Road to Hana. Both are relatively hidden and inaccessible to the public, which makes this clear vantage point from the Garden of Eden all the more omnipotent.
Between these two overlooks is an open-air platform to see Keopuka Rock, also known as Jurassic Rock because of its appearance in the 1993 movie's opening sequence. As someone who owns "Jurassic Park" on VHS, DVD, Blu-ray and, once upon a time, even on LaserDisc, I instantly hear the pulsating propellers of a helicopter as it dips into frame, introducing Isla Nublar to the world for the first time on screen. Outside a helicopter tour, this overlook is the next best option to viewing it. Parts of the valley obscure the rock slightly, but it's still identifiable enough to get you humming John Williams' epic score.
However, islets and waterfalls play a supporting role to the Garden of Eden's true stars—its nature trails, where we get up close and personal with plants native and indigenous to Hawai'i, and exotic ones from around the South Pacific region and the world's rain forests. Across a banana patch, Christine stares up at a century-old mango tree, her silhouette in the shade, trumped by its splendor and size. Cody slips into a tunnel of bamboo, training his camera to capture the scene as natural light peeks through its chutes. As I stroll along an anthurium garden, I realize for a few minutes there, I've stopped counting how many miles we have to go to our final destination (43) and how many shades of green are present in the ferns covering the trail (five). We're a group of three and each of us has found different areas ripe for exploration.
Beside the flourishing purple ti plants, a spider with a spiny, tough-looking shell weaves a web and captures our attention. As Cody switches on the "flower" setting to photograph this bug we've never seen before, a shirtless man, his hair glowing white, quietly rakes leaves from the path. His meticulousness and obvious comfort in this environment invites me to ask if he knows anything about the insect.
"Ah, those," he says, flatly. "Crab spiders." He doesn't seem as enthralled with them as we do, likely due to their status as a non-native that just appeared here one year in the early '90s, he tells us. "We never had those," he explains, "then I came back from Tahiti and … " His sentence trails off, a clue he's been here since the garden's beginnings hanging in the air.  It's not until he leaves us to comb the rest of the trail that we learn this completely unassuming man is Alan Bradbury, Maui's first I.S.A.-certified arborist, landscape designer, owner and groundskeeper of this botanical garden. When we open up our maps, at the top left corner, his portrait is smiling back at us and we realize we just had a conversation with the "god" who created this tropical place and didn't even know it.
After an hour of wading through rainbow eucalyptus and trees necklaced in black-blue flower petals, we're back where we started—the vast lawn of the arboretum with a wide-open view of the ocean—but my mind is a lot clearer. In the center of it, an elderly couple break bread together at a picnic table they have all to themselves, sharing a moment of calm that has me believing they've figured something out in age I myself might want to learn. We buckle ourselves back into our car, fold up our maps and say bye to the peacocks. As we're cruising out of the Garden of Eden back onto the Road to Hana, I'm gripping the steering wheel a little less.
---
Located between mile markers 10 and 11, 10600 Hana Hwy., Haiku, (808) 572-9899, mauigardenofeden.com.